Twitter Confused by Trump Tweet About Helping Chinese Phone Company ZTE: Not Really 'America First'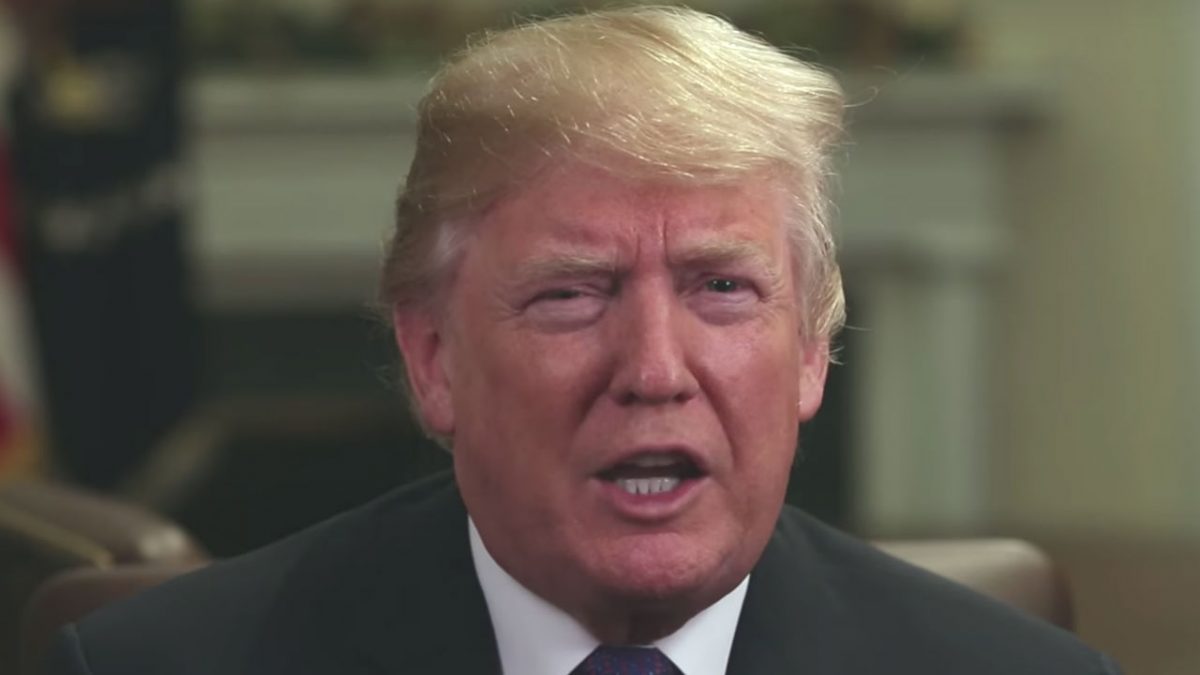 President Trump today, out of the blue, tweeted that he and the President of China are working to help out the Chinese phone company ZTE.
President Xi of China, and I, are working together to give massive Chinese phone company, ZTE, a way to get back into business, fast. Too many jobs in China lost. Commerce Department has been instructed to get it done!

— Donald J. Trump (@realDonaldTrump) May 13, 2018
It's unclear what spurred this particular tweet, but it's worth noting that earlier this year, top officials from multiple U.S. intel agencies said earlier this year that Americans should NOT buy phones made by ZTE:
Republican Senator Tom Cotton of Arkansas asked the group to raise their hands if they would recommend private American citizens use products or services made by Apple competitor Huawei or smartphone maker ZTE. None of them did.

FBI Director Chris Wray explained why it is an issue for companies and local governments to use Huawei or ZTE products and services.

There is a risk of letting any company "beholden to foreign governments" inside the country's telecommunications infrastructure, he said. Huawei is a global leader in networking equipment, and the government has previously blocked it from selling technology to some federal agencies.
More recently, the U.S. Commerce Department issued an export ban that keeps U.S. firms from selling to it. ZTE is trying to get it reversed, and just last week they halted major operating activities.
So, naturally, people have a lot of questions:
Here's the CNN story. Aside from the pure doublethink of it all, that ZTE tweet is the like furthest thing imaginable from 'America First.' https://t.co/vsKIwwAHsp

— southpaw (@nycsouthpaw) May 13, 2018
To Jake Tapper this AM,John Bolton threatened sanctions on NATO allies who continue to trade w Iran. ZTE is an Iran sanctions buster on a colossal scale, but China offered more lenient treatment. Why? https://t.co/1hI6N3Lg9R

— David Frum (@davidfrum) May 13, 2018
Below is the Commerce Department's order. This order was one of the few trade / international relations decisions from the Trump Administration that actually made sense — and now it's being reversed? Why? https://t.co/vySpiHLqkF

— Max Kennerly (@MaxKennerly) May 13, 2018
What in the world precipitated that ZTE tweet?

— Liam Donovan (@LPDonovan) May 13, 2018
Watch this space. Prediction: It won't end well. (Very strange Tweet for the US President to send…re: protecting Chinese jobs. But even more strange given the concerns re: ZTE that led to their problems in the U.S. in the first place.) https://t.co/Ww0a568ktu

— David Rothkopf (@djrothkopf) May 13, 2018
The message of Trump's ZTE tweet at the same time he is re-imposing Iran sanctions is that US companies who violate sanctions with Iran will be punished. Chinese companies who do will be let off the hook. America first!

— Matthew Miller (@matthewamiller) May 13, 2018
Trump supporters must have whiplash; Trump is advocating helping a Chinese company to save jobs in China—after US companies were barred from selling products to ZTE because it violated US sanctions on Iran. But they will inevitably rationalize it anyway and say he knows best. https://t.co/nOw6BzZ82q

— Brian Klaas (@brianklaas) May 13, 2018
Just spoke to official who oversaw launch of ZTE case during Obama administration and spent years working on it: "I am speechless." https://t.co/rNrs7lZy0B

— Shawn Donnan (@sdonnan) May 13, 2018
They warned me if I didn't vote for Donald Trump we'd have a president who would put Chinese phone companies and Chinese jobs first… https://t.co/koczrVcgQM

— Bill Kristol (@BillKristol) May 13, 2018
Wait. What? https://t.co/Emjxz8xBN7

— Jonah Goldberg (@JonahNRO) May 13, 2018
Finally, the people of Michigan and Ohio are sticking it to the elites with a President who shares their top priority: jobs for China. For once, the Commerce Department is working for real Americans, like the President-for-Life of our communist competitor. MAGA https://t.co/rmgW48rou8

— Tom Nichols (@RadioFreeTom) May 13, 2018
"ZTE Corporation not only violated export controls that keep sensitive American technology out of the hands of hostile regimes like Iran's, they lied…about their illegal acts" – Jeff Sessions
So why go to bat for ZTE? Does it have anything to do w/the Chinese trademarks he got? https://t.co/QPYla2aSjL

— Citizens for Ethics (@CREWcrew) May 13, 2018
This makes no sense on any level unless you either assume Trump's account was hacked by China or that he has no idea what he's doing. https://t.co/U3mnYnbfJy

— Josh Jordan (@NumbersMuncher) May 13, 2018
Make China Great Again! https://t.co/qC7Ce18CQW

— Ian Livingston (@islivingston) May 13, 2018
And now, a message from… the president of China? https://t.co/rrFsAZz16v

— Igor Bobic (@igorbobic) May 13, 2018
This is the opposite of America First https://t.co/BIEMz3cldz

— Curtis Houck (@CurtisHouck) May 13, 2018
[image via screengrab]
— —
Follow Josh Feldman on Twitter: @feldmaniac
Have a tip we should know? tips@mediaite.com
Josh Feldman - Senior Editor