Twitter Dunks on Jacob Wohl For Faking Death Threats Against Himself: He's an 'Everlasting Gob Stopper of Stupid'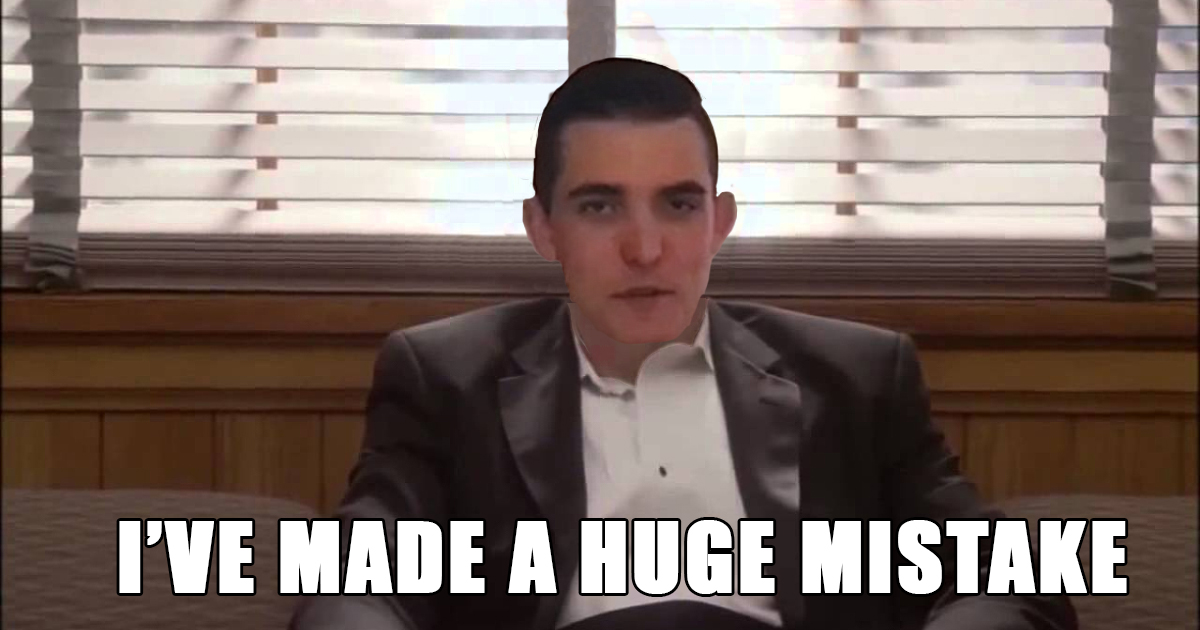 Trump activist and Twitter banee Jacob Wohl has sunk to new lows in the last 24 hours, moving on from framing other people to, apparently, "framing himself" as one Twitter user put it.
Wohl has apparently faked a death threat against himself from a fake person he created on Twitter, filed a fake police report about that fake threat, and then put the incident, which he filmed, into the fake documentary he is making with fellow Twitter-reject Laura Loomer.
Of course. Of course he did. https://t.co/4Ydw5qgnPp

— Esoteric Jeff (@EsotericCD) March 13, 2019
A busy night.
But the fact that the two have been banned from the social media site doesn't mean they aren't mentioned there when they do something colossally stupid, and frankly that's great news because some of the dunking on the dumbass crook has been hilarious.
Here's just a sample. There are So. Many. More.
I like this pairing. It's very complete.
Good for Jacob Wohl for proving he doesn't need twitter, he can go outside in the fresh air & sunshine to incompetently make shit up https://t.co/NetIZf5t0A

— Paul F. Tompkins (@PFTompkins) March 13, 2019
Lmao did he film himself committing a crime? This is the most on brand thing Jacob Wohl has ever done. https://t.co/3ei5Imi2Yn

— Jessica Huseman (@JessicaHuseman) March 13, 2019
You can't argue with this next one. If anyone had run a poll on who would watch something terrible and decide to emulate it, Wohl would have been an odds-on favorite.
"Who would look at Jussie Smollett and think, 'that's a great idea!'?"

Well, we have our answer. https://t.co/ymW3cs8elI

— Emily Zanotti (@emzanotti) March 13, 2019
There were a lot of mentions of Jussie Smollet, and of Wohl's Twitter status.
I saw what happened to Jussie and thought it was a great idea is exactly what I expect of Jacob Wohl. Who I still know nothing about and yet, I'm loving this. https://t.co/7WWYgcbvAo

— Bethany S. Mandel (@bethanyshondark) March 13, 2019
He's about to be known as "Jussie Wohl." https://t.co/EX2p2FI6p1

— Frank Luntz (@FrankLuntz) March 13, 2019
For the first time, I'm sad that Jacob Wohl's Twitter account was taken down because now I can't troll him about tweeting his own crimes.

— Machine Pun Kelly (@KellyScaletta) March 13, 2019
Not to mention hopes for his future.
This all ends in a reality show where Jacob Wohl and Jussie Smollett are forced to live together while they work off their community service. #TheRealOddCouple https://t.co/3U4zeOQX9R

— Cam Edwards (@CamEdwards) March 13, 2019
#Prison https://t.co/DYqE4H1A4R

— Steve Deace (@SteveDeaceShow) March 13, 2019
"Jussie and Jacob Go To Prison" is going to be one hell of a reality show. https://t.co/tKAxVHO57I

— Ben Shapiro (@benshapiro) March 13, 2019
jacob wohl and jussie smollett should be locked in a cell together and given access to twitter but they can only see each other's tweets. https://t.co/tgSoy8QFRF

— siraj hashmi (@SirajAHashmi) March 13, 2019
But mostly, just great dunking.
kind of amazing to think that wohl survived an attempted framing of robert mueller only to go on to frame himself https://t.co/SxwBnI6jNe

— kilgore trout (@KT_So_It_Goes) March 13, 2019
Jacob Wohl is an Everlasting Gob Stopper of stupid. https://t.co/kgWk6xIXS8

— bob clendenin (@bobclendenin) March 13, 2019
Jacob wohl isn't a corporeal being. He exists in our collective consciousness and is just a symptom of mass psychogenic illness like the Tanganyika laughter epidemic

— Joe Gabriel Simonson (@SaysSimonson) March 13, 2019
Jacob Wohl is the Eric Trump of Jussie Smolletts https://t.co/qQ8WrTRGzB

— Zack Bornstein (@ZackBornstein) March 13, 2019
Jacob Wohl walks on a magic carpet made entirely of rakes. https://t.co/13GmI1Ovzs

— shauna (@goldengateblond) March 13, 2019
But y'all, let's pour one out for the real victim here, please, okay?
Dammit, Jacob Wohl used the name "Drake Holmes" to send himself death threats and now my pilot about Drake touring the world and solving crimes needs a new title. pic.twitter.com/dUsf2cIcCS

— Andy McDonald (@iamandymcdonald) March 13, 2019
Just another day in insane-town.
[Featured image via screengrab]
—
Follow Caleb Howe (@CalebHowe) on Twitter
Have a tip we should know? [email protected]