Twitter Fancasts SNL White House Roles After Report on Trump's Reaction to Melissa McCarthy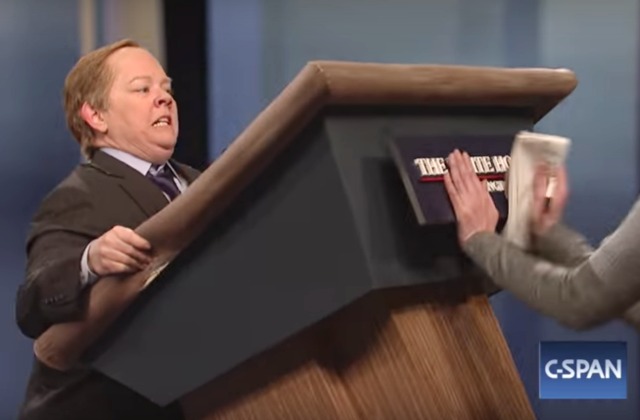 A new report on how President Trump reacted to Melissa McCarthy lampooning Sean Spicer on last weekend's SNL inspired quite a lot of fancasting on Twitter tonight.
You may have noticed that, despite Alec Baldwin returning to play Trump (along with Death as Steve Bannon), the president did not tweet his reaction to the show like he normally does. That sketch was pretty clearly eclipsed by McCarthy's insane portrayal of a pissed-off Spicer yelling at and literally charging the podium at reporters.
A Politico report tonight says the sketch did not go over well at the White House, and there was one part in particular that bothered Trump:
More than being lampooned as a press secretary who makes up facts, it was Spicer's portrayal by a woman that was most problematic in the president's eyes, according to sources close to him.
Well, this detail was all it took to get Twitter to start fancasting other actresses and comediennes who could play certain roles on SNL (you may notice one recurring name in particular):
ROSIE O'DONNELL NEEDS TO START PLAYING TRUMP ON SNL RIGHT FUCKING NOW https://t.co/F3NjS22GVp

— Zach Heltzel (@zachheltzel) February 7, 2017
omg if Rosie O'Donnell plays Steve Bannon on this weekend's #SNL, it might actually be enough to get Trump to fire him

— Mere Smith (@EvilGalProds) February 7, 2017
Time for Ellen to call SNL and volunteer to play Mike Pence.

— Kashana (@kashanacauley) February 7, 2017
Coming soon to SNL: Rosie O'Donnell as Trump! https://t.co/leyer4NwSt

— Alan Sepinwall (@sepinwall) February 7, 2017
Rosie O'Donnell portraying Steve Bannon on #SNL would be 1000x awesome.

— Mike Ward (@ShouldISeeIt) February 7, 2017
Alrighty. If someone knows how to get ahold of SNL writers, please ask them to have .@Rosie play @realDonaldTrump in the next SNL #SNL https://t.co/Bz5HkZPG5r

— AltUSFWS (@AltUSFWS) February 7, 2017
The tease of @Rosie playing #PresidentBannon next week on #snl has me giddy.

— Nancy Lee Grahn (@NancyLeeGrahn) February 7, 2017
SNL should have different celebs play Trump every week. Anyone and everyone. Women, gays, blacks, browns, everyone. Drive him fucking nuts.

— Dave King (@DaveKingThing) February 7, 2017
margaret cho carol burnett rupaul mindy kaling john goodman idris elba poehler carell rock kroll chapelle joe biden

— Dave King (@DaveKingThing) February 7, 2017
Sorry, Alec Baldwin, but the nation needs @Lesdoggg to play Trump from now on. https://t.co/HIxy7XGJ7V

— Melissa McEwan (@Shakestweetz) February 7, 2017
Meryl needs to play Steve Bannon. https://t.co/WihmPIf7FA

— Alyssa Milano (@Alyssa_Milano) February 7, 2017
Can we petition SNL to have Rosie O'Donnell play Trump next Saturday? That would put him RIGHT over the edge. https://t.co/ZIL605NMug

— Brian Fitzpatrick (@therealfitz) February 7, 2017
Current rankings of women who should play Trump on SNL, per my mentions: 3. Kate McKinnon. 2. Meryl Streep. 1. Rosie O'Donnell

— Bruce Arthur (@bruce_arthur) February 7, 2017
For the love of all things holy, SNL should have Betty White play Trump from now on.

— Jason Pinter (@jasonpinter) February 7, 2017
Dear @nbcsnl,
Now that we know for sure that being played by a woman bothers Trump:
ROSIE
ROSIE
ROSIE
ROSIE
ROSIE@Rosie
Rosie O'Donnell

— Amy Siskind (@Amy_Siskind) February 7, 2017
Cold open next SNL should be all the women cast members doing an audition to play Trump. Maybe get some more guest stars in there.

— Christopher Campbell (@thefilmcynic) February 7, 2017
No, have Rosie play Bannon, with Trump taking orders from her. https://t.co/kxgcnbMCCs

— Parker Higgins (@xor) February 7, 2017
Rosie O'Donnell had this to say to one of the people throwing out her name:
@calvininsf – i am here to serve – alec has trump – melissa has spice – i would need a few days to prepare – so if called – i will be ready

— ROSIE (@Rosie) February 7, 2017
[image via screengrab]
— —
Follow Josh Feldman on Twitter: @feldmaniac
Have a tip we should know? tips@mediaite.com
Josh Feldman - Senior Editor