Twitter Freaks Out Over Trump's Derailed Press Event: 'Burns Bridges at Infrastructure Presser'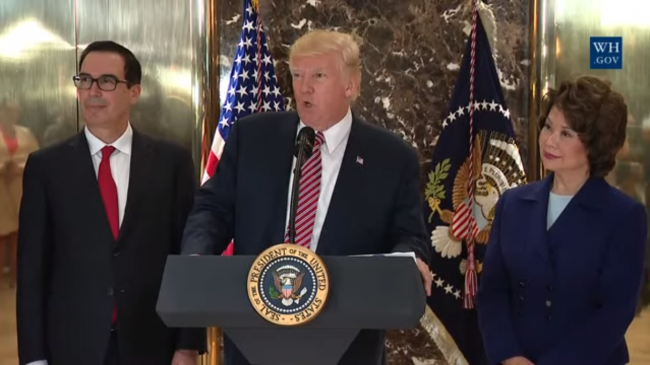 President Donald Trump gave a speech about infrastructure Tuesday in the lobby of Trump Tower in New York, but it's when he took questions afterwards that really got people heated.
Trump was asked why he took so long to make a statement about the Charlottesville incident over the weekend, in which a woman died after an alt-right extremist ran his car into a crowd of protesters during a "Unite the Right" rally. Trump gave a statement on Saturday, saying "We condemn in the strongest possible terms this egregious display of hatred, bigotry and violence on many sides, on many sides." He was criticized for not calling out white supremacist, and again made a statement Monday to specifically call out "the KKK, neo-Nazis, white supremacists, and other hate groups that are repugnant to everything that we hold dear as Americans."
Trump today continued to dig himself a hole and even said that there "is blame on both sides" and that there were "nice people" on both sides.
Needless to say, people were tweeting out their opinions just as fast as he was speaking:
David Duke, however, praised the President's remarks:
Thank you President Trump for your honesty & courage to tell the truth about #Charlottesville & condemn the leftist terrorists in BLM/Antifa https://t.co/tTESdV4LP0

— David Duke (@DrDavidDuke) August 15, 2017
[image via screengrab]
Have a tip we should know? tips@mediaite.com