Twitter Goes Nuts After Jeff Flake Announces He Won't Seek Re-Election: 'Flake Out?'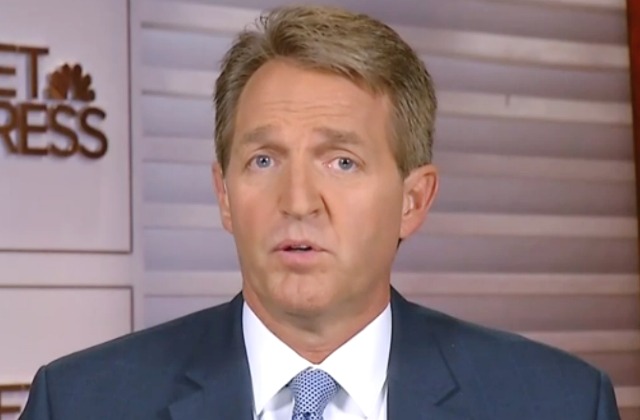 In what has already been a crazy day in Washington, Sen. Jeff Flake (R-AZ) decided to make it even nuttier when news dropped that he was not going to seek re-election in 2018.
In his statement, Flake — who has run afoul of President Donald Trump in recent months — essentially said he was leaving the GOP as well, stating that there is not a place for him in the current Republican climate and party.
With Flake taking his stand and delivering a no-holds-barred anti-Trump speech on the Senate floor on a day when Trump has engaged in a vicious back-and-forth with another GOP lawmaker who isn't running, Twitter weighed in with a whole bunch of hot takes.
This Flake speech is a blaring national alarm. Calls president's behavior "outrageous," "dangerous to democracy." https://t.co/MCHxSs4UBd

— Robert Costa (@costareports) October 24, 2017
This is a remarkable speech. Flake isn't just calling out Trump, but all of his GOP colleagues.

— Matthew Miller (@matthewamiller) October 24, 2017
Flake and Pence were very good friends — I wonder what the status of that friendship is now

— Matthew Nussbaum (@MatthewNussbaum) October 24, 2017
This Corker-Flake one-two punch at Trump is something else…

— Mark Murray (@mmurraypolitics) October 24, 2017
It must have been such a shock to Jeff Flake when he woke up this morning and learned that Donald Trump is an insane and divisive lunatic.

— Ken Tremendous (@KenTremendous) October 24, 2017
the only thing jeff flake is mad about is that trump had the gall to say the quiet parts loud

— Ashley Feinberg (@ashleyfeinberg) October 24, 2017
With Flake not running, there's now another senator who absolutely frigging loathes the president and owes nothing to anybody

— Benjy Sarlin (@BenjySarlin) October 24, 2017
Jeff Flake……….congrats on your new job as president of the Heritage Foundation

— Haley Byrd (@byrdinator) October 24, 2017
Jeff Flake is a bandit who doesn't want to be associated with super villains.

— Eugene Gu, MD (@eugenegu) October 24, 2017
Jeff Flake's speech on the Senate floor will end up in the history books.

— Kasie Hunt (@kasie) October 24, 2017
Due to the civil war nature of today's GOP, one side was absolutely thrilled:
Bannon ally gloats to me about Flake's retirement "Another scalp!"

— Ben Jacobs (@Bencjacobs) October 24, 2017
Corker. Now Flake. Who's next? As Breitbart wages war on GOP, many incumbents are wary of slogging through 2018…

— Robert Costa (@costareports) October 24, 2017
Trump talkers are all in behind Ward, for those who think a white knight will save the AZ seat for conservatives.

— Noah Rothman (@NoahCRothman) October 24, 2017
And someone just had to do the obvious joke:
So you're telling me that Jeff is going to

(•_•)
( •_•)>⌐■-■
(⌐■_■)

Flake out?

— Sonny Bunch (@SonnyBunch) October 24, 2017
And at least one person wondered how a certain someone would react:
I am sure trump will not be cranky at all about flake hogging the spotlight directly after trump managed to behave himself in the tax lunch

— Asawin Suebsaeng (@swin24) October 24, 2017
[image via screengrab]
—
Follow Justin Baragona on Twitter: @justinbaragona
Have a tip we should know? tips@mediaite.com