Twitter Loses It When Louise Mensch Says 'Marshal of the Supreme Court' Told Trump About Impeachment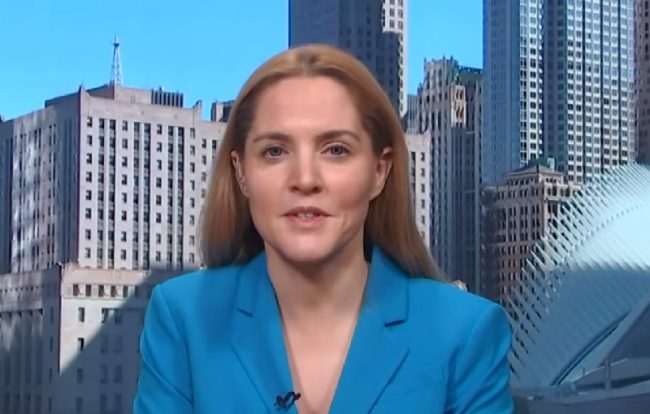 Now, we've covered former British politician and current conspiracy theorist Louise Mensch before. She's made a name for herself in recent months by diving headlong into the Russia/Donald Trump collusion story. While it should be pointed out that she has proven to be prescient in the past about certain things, one look at her Twitter timeline and website will give you the impression that EVERYONE is caught up in the Russia web, leaving her credibility, let's just say, in question.
In this vein, she published a blockbuster blog post today that claimed that she's been informed by multiple sources that President Trump was notified just before his foreign trip that a case of impeachment had begun.
Sources further say that the Supreme Court notified Mr. Trump that the formal process of a case of impeachment against him was begun, before he departed the country on Air Force One. The notification was given, as part of the formal process of the matter, in order that Mr. Trump knew he was not able to use his powers of pardon against other suspects in Trump-Russia cases. Sources have confirmed that the Marshal of the Supreme Court spoke to Mr. Trump.
So, yeah. That's not how this works, That's not how any of this works.
And folks on Twitter had an absolute field day at Mensch's expense after they saw the post:
For those of you who follow Louise Mensch and Claude Taylor, please value your brain more. This is not how it works. https://t.co/VAZfdq6nAT pic.twitter.com/Fn2iZnyFji

— Yashar (@yashar) May 20, 2017
ah, another hot scoop rooted in finely granular knowledge of how the U.S. government does not operate pic.twitter.com/1hO3bAARSc

— Simon Maloy (@SimonMaloy) May 20, 2017
Saddest fanfic ever pic.twitter.com/meYP7k0fZ6

— Liam Donovan (@LPDonovan) May 20, 2017
Louise Mensch wrote this excerpt for anyone still taking her seriously pic.twitter.com/CXjv51FGNX

— Woko Haram (@Wokieleaksalt) May 20, 2017
Hilarious – says Supreme Court notifies you of impeachment being considered. That's, um, not how it works. Sad people think this is credible https://t.co/WlYKol0PIk

— Brendan Nyhan (@BrendanNyhan) May 20, 2017
Exclusive photo of the Marshall of the Supreme Court and his honor guard arriving at the White House. MUST CREDIT. pic.twitter.com/gX4v1hlGoY

— David Frum (@davidfrum) May 20, 2017
Under the 31st Amendment, the Marshal of the Supreme Court may replace the president if he determines him to be "really immature"

— Allahpundit (@allahpundit) May 20, 2017
I can't stop laughing at the Marshal of the Supreme Court breaking the bad news to Trump. https://t.co/fL7dnzyIyA

— Stephen T Erlewine (@sterlewine) May 20, 2017
I made a dumb mistake re impeachment and two-thirds. You may feel free to call the Marshal of the Supreme Court and have him shoot me.

— John Podhoretz (@jpodhoretz) May 20, 2017
How to impeach a President:

1. Contact Marshal of Supreme Court.

2. ???????

3. President Bobcat

— Nathan Wurtzel (@NathanWurtzel) May 20, 2017
This is something that can only be written by someone with LITERALLY NOT EVEN A BASIC CONSTITUTIONAL UNDERSTANDING of Prez pardon power. pic.twitter.com/8erMNEHto7

— Jeff B/DDHQ (@EsotericCD) May 20, 2017
[image via screengrab]
—
Follow Justin Baragona on Twitter: @justinbaragona
Have a tip we should know? tips@mediaite.com