Twitter Reacts: 'Absolutely Horrible' Transcripts Were Leaked…'My God They're Terrible'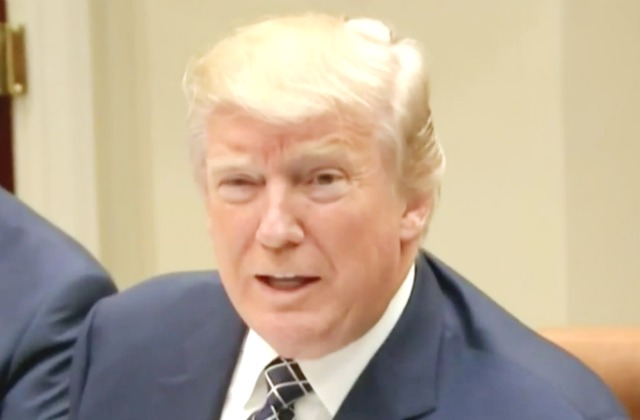 Once again, the media and political sides of Twitter are ablaze over the news that President Trump's phone calls with the leaders of Mexico and Australia have been leaked out.
The transcripts show that when Trump had his first presidential conversation with Enrique Pena Nieto, he demanded that the Mexican president stop talking about how his country will never pay for a border wall. Trump also had some explosive moments with Malcolm Turnbull as they discussed immigration and other matters.
The news is making waves online, and Twitter has conjured up the reactions to match. Some people addressed the transcripts by expressing concern that something like this could be leaked from the White House.
Anybody w access to this transcript also has access to many other secrets. Trusted people are breaking career-long habits to thwart Trump

— David Frum (@davidfrum) August 3, 2017
I would've lost my mind if transcripts of Obama's calls to foreign leaders leaked. He wouldn't have sounded so dumb, but it's still absurd.

— Tommy Vietor (@TVietor08) August 3, 2017
It is absolutely absurd that a President of the United States phone calls to foreign leaders were leaked to WaPo.

— SalenaZito (@SalenaZito) August 3, 2017
Trump has a good case for being pissed about the leaked transcripts. Hurts ability to speak in confidence w/world leaders.

— Olivier Knox (@OKnox) August 3, 2017
Those observing that the leaks are bad for USFP and the executive are right, but dismissing Trump's unfitness is in error. One yields other.

— Noah Rothman (@NoahCRothman) August 3, 2017
However, other people focused on the content revealed, and they had quite a few thoughts about it:
This is incredible. https://t.co/PqIkYhErWZ

— Bilge Ebiri (@BilgeEbiri) August 3, 2017
oh my god, turnbull had to tell trump that the boston bombers were from russia.

trump: "they were from wherever they were." pic.twitter.com/usova1aH4b

— kelly cohen (@politiCOHEN_) August 3, 2017
a) it's absolutely horrible these transcripts were leaked. b) my God they're terrible.

— John Podhoretz (@jpodhoretz) August 3, 2017
Trump administration getting a nasty case of seeing what it's like to have their internal communications dumped for public consumption.

— Matt Pearce (@mattdpearce) August 3, 2017
among other things, embarrassing for Paul Ryan who has just gone all in for The Wall https://t.co/HCZpPikT8I

— John Harwood (@JohnJHarwood) August 3, 2017
Newly released transcript indicates, once again, that SOMEONE lied, but it wasn't the media cc: @realDonaldTrump #fakenews https://t.co/WzpavKmhNL

— Ali Velshi (@AliVelshi) August 3, 2017
Hey, GOP base: @realDonaldTrump talks about the Wall a lot differently when he thinks u can't hear him. https://t.co/7lVIT9zjqB

— Glenn Thrush (@GlennThrush) August 3, 2017
On top of everything else, we are led by President Idiot. https://t.co/nZVz7eWPQH

— Keith Olbermann (@KeithOlbermann) August 3, 2017
The one pattern that is emerging clearly is that anything labeled #fakenews by Trump, is likely entirely accurate. pic.twitter.com/jIF6g9aBdJ

— Alex Andreou (@sturdyAlex) August 3, 2017
This tweet appears just a tad misleading in light of @gregpmiller's latest scoop https://t.co/Nj4cdPHCFk

— Adam Entous (@adamentous) August 3, 2017
Main reason transcripts matter – another thing Trump/aides insisted at time wasn't true, but was https://t.co/iuRlhzoO0X

— Maggie Haberman (@maggieNYT) August 3, 2017
New Hampshire senator Maggie Hassan had something to say about Trump calling her state a drug den:
.@realDonaldTrump's comments about New Hampshire are disgusting. As he knows, NH and states across America have a substance misuse crisis 1/

— Sen. Maggie Hassan (@SenatorHassan) August 3, 2017
To date, @POTUS has proposed policies that would severely set back our efforts to combat this devastating epidemic 2/

— Sen. Maggie Hassan (@SenatorHassan) August 3, 2017
Instead of insulting people in the throes of addiction, @POTUS needs to work across party lines to actually stem the tide of this crisis 3/3

— Sen. Maggie Hassan (@SenatorHassan) August 3, 2017
[Image via screengrab]
— —
>> Follow Ken Meyer (@KenMeyer91) on Twitter
Have a tip we should know? tips@mediaite.com