Twitter Reacts To Latest Act of Terrorism in London: 'I Hope People Will Wake Up'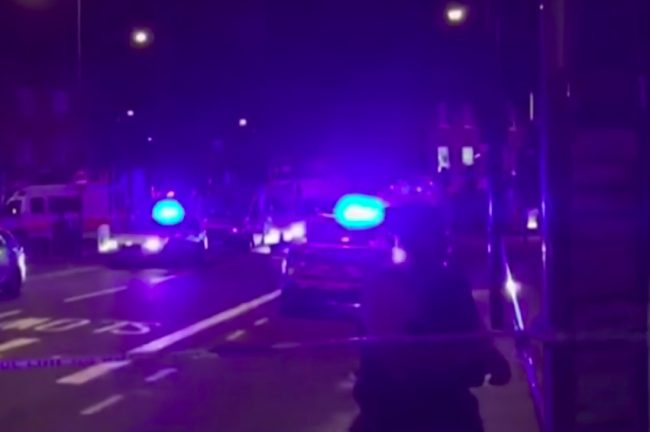 Father's Day ended in London with news of yet another terrorist attack to strike the city.
Late Sunday night a man driving a van mounted a sidewalk in Finsbury Park, north London and plowed into worshippers leaving a local Muslim community center and mosque. At least one person was killed while another eight were injured, according to initial reporting by CNN.
"We don't yet know the full details, but this was clearly a deliberate attack on innocent Londoners, many of whom were finishing prayers during the holy month of Ramadan," said London's mayor, Sadiq Khan, the network reported.
In contrast to the great majority of terrorism in London and Europe in recent years, this appears to have not been inspired by radical Islam.
It was an "attack of revenge" MSNBC's Joe Scarborough said on Morning Joe early Monday.
The unusual dynamic set Twitter abuzz Sunday night and Monday morning, with big name accounts offering condolences but also trying to seize the narrative.
Again: let's talk about how the #FinsburyPark terrorist was radicalised. pic.twitter.com/t3O6q5zfXq

— J.K. Rowling (@jk_rowling) June 19, 2017
Sickening terror attack on British Muslims outside their place of worship in London. At least one dead, many more wounded. #finsburymosque

— Piers Morgan (@piersmorgan) June 19, 2017
Finsbury Park an act of Islamophobic terrorism and should be condemned as such. I stand in solidarity with my Muslim brothers and sisters

— David Lammy (@DavidLammy) June 19, 2017
Another attack, another bloody day and all the victims are Muslim. And u still accuse Islam of terrorism? These are freaks with no religion

— Elissa (@elissakh) June 19, 2017
Shocking terror attack outside Finsbury Park mosque. Thoughts & prayers with friends & families of the victims #FinsburyPark

— Diane Abbott (@HackneyAbbott) June 19, 2017
Liberals: Terror has no religion.
Also liberals: This terror was Islamophobia. #FinsburyPark

— Katie Hopkins (@KTHopkins) June 19, 2017
The same people who say "don't politicize terror attacks" are now blaming all white conservatives for the London attack.#FinsburyPark

— Collin Rugg (@CollinRugg) June 19, 2017
I grieve with our British friends for the victims of the London vehicle attack on mosque worshippers. So senseless & heartbreaking.

— Rep. Eric Swalwell (@RepSwalwell) June 19, 2017
I hope people will wake up to the fact that terror in all forms must be confronted and beaten, and how wrong @SadiqKhan is… pic.twitter.com/XLbJldVQqD

— Raheem ?? (@RaheemKassam) June 19, 2017
Have a tip we should know? [email protected]