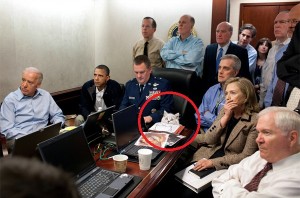 Nobel Prize-winning economist and New York Times liberal columnist Paul Krugman wrote briefly about "Terror Politics" in a late blog post on Monday. It's a short thought bubble of sorts, but nobody really cared after the Internet noticed that a small white cat had been Photoshopped into the photo selected for the piece.
All anyone cared about come Tuesday morning was the cat, who he or she was, and why the feline had been placed into the photo. Not to mention why Krugman, the NYT or both had chosen the picture in the first place. Was it an accident? Was it on purpose? Did Krugman or the NYT even know about the cat?
!!!!!!!! https://t.co/gDv1zRHXV9 pic.twitter.com/60W4upi7BC

— Lachlan Markay (@lachlan) November 24, 2015
Writers and editors at Slate quickly noticed that the photoshop was their own, having been made for a 2011 photo gallery titled, "Cats of War." The jokey post put cats into famous photos from both world wars and other 20th-century conflicts.
Looks like the Krugman cat is from a 2011 @Slate piece https://t.co/O64XwPKreS — Sophie Kleeman (@sophie_kleeman) November 24, 2015
The photo selected for Krugman's blog post concerned "a high-level CATS adviser, whose name was not released by the Pentagon, monitors the Abbottabad raid from the Situation Room." The original photo came from the famous Situation Room shot taken during the Pakistan raid that killed Osama bin Laden.
Needless to say, neither Krugman nor the NYT initially credited Slate for the photo.
WHERE'S THE CREDIT, KRUGMAN? https://t.co/VGiSrNFB2c

— Jim Newell (@jim_newell) November 24, 2015
Most reactions expressed utter confusion at the photo's selection.
Um, why is Krugman's blog post illustrated with a photoshopped image of a cat in the war room? (h/t @iD4RO) https://t.co/RIrxeOxBJy

— Jeet Heer (@HeerJeet) November 24, 2015
Thought this was a hoax, but no—NYT really did post the cat version of this famous photo. https://t.co/FGIwIYUxTE pic.twitter.com/kB2g6Rh8Tb

— Laura J. Nelson (@laura_nelson) November 24, 2015
Scanning the comments in that Krugman piece hoping someone will mention the cat, hasn't happened yet

— Jeff Parker (@jeffparker) November 24, 2015
Others were just weird.
what the hell pic.twitter.com/aZx6N6eJxx — Elliott Schwartz (@elliosch) November 24, 2015
Following Slate's revelation that it was their photo, the blog post was corrected with an appropriate accreditation.
NYT STANDS BY CAT PHOTO. They have added a link to Slate's "Cats of War" below the photo https://t.co/JuJfsWIEGb pic.twitter.com/GQuRdodt7l

— Madeline Marshall (@Maddie_Marshall) November 24, 2015
In addition, Krugman added a brief update claiming he knew about the photo and had chosen it on purpose:
Yes, I know there's a cat in the picture; I took it from Slate, "The Cats of War." I've used that image before, to lighten things up slightly. Apparently I didn't succeed.
Considering that the original piece contained nothing even remotely related to cats, pussies or felines, it's safe to say that Krugman didn't even come close to succeeding with his way-too-subtle humor.
[Image via Slate]
— —
>> Follow Andrew Husband (@AndrewHusband) on Twitter
Have a tip we should know? tips@mediaite.com