Twitter User Finds That Facebook Sticker Feature Produces Misogynistic Result for 'Feminist' Search
Facebook has a bunch of fun features now. For instance, instead of just liking a status, users can now react to it with an animated laughing face or even one that cries. How expressive!
Another way users can express themselves is by using the site's stickers. Stickers come in premade packs and can be downloaded by anyone. When writing in any text-entry box, be it one under a public status or inside of a personal chat, the user just has to click the sticker button to reveal their collection. Then, they can use drawings of anything from Pusheen to Hello Kitty to convey exactly how they feel. Some of these little cuties are even animated!
Best of all, there is a search feature built right into the stickers manager. A person need only type in "sad" and all applicable stickers from their collection will appear. There is even the opportunity to search by occupation or identity.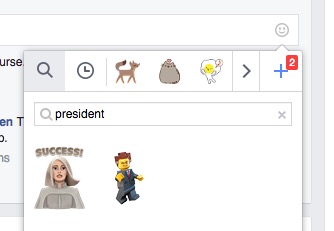 Obviously, each little sticker must be associated with some keywords.
That's where the problem starts. Twitter user @Aefauld called attention to what happens when a person tries to find a sticker to match the word "feminist."
.@MarkZuckerbergF Typing 'feminist' into FB's sticker search engine, yields this misogyny. Who's responsible for it? pic.twitter.com/Z2plGNgE8y

— (((Galsgow))) (@Aefauld) August 31, 2016
The only sticker that comes up is one that's throwing up. Classy!
So, who's behind that? The Twitter users wanted to know, so Facebook's founder Mark Zuckerberg got tagged in the tweet.
It isn't as if the stickers have a hard anti-social justice leaning, either. There is a whole sticker pack devoted to LGBT pride. There is even one that features men crying that reads as at least partially meant to reduce the stigma surrounding men showing emotions. That "feminist" pulls up a vomiting emoji face when the "Man Tears" sticker pack exists in the same application is a little strange.
Does Facebook have a coder working for them who secretly really hates women's empowerment? We've reached out to their team for a few answers and will update you with any developments.
UPDATE — 9:04 p.m. EST:
It looks like other users noticed the issue earlier today and that "liberals" was another word that got the pukey-face treatment. Facebook said this to Venture Beat in a statement:
We have guidelines for tagging Stickers in place, so this appears to be a bug in our search algorithm which is being corrected and should not appear after today. We apologize if this caused any concern.
[image via screengrab]
Have a tip we should know? tips@mediaite.com