Two More Breitbart Staffers Resign, Citing Outlet's 'Party-Line Trump Propaganda'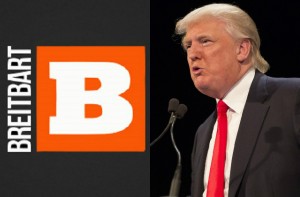 Two more Breitbart staffers resigned Monday, excoriating the conservative news outlet in their statements as having abandoned journalistic integrity and ethics in order to pursue an unabashedly pro-Trump agenda.
National security correspondent Jordan Schachtel and editor Jarrett Stepman joined four other Breitbart writers and editors who have left the news site since it called into question the veracity of its own reporter's story when she claimed she had been assaulted by Donald Trump's campaign manager.
Schachtel wrote in his statement that Breitbart "was no longer a journalistic enterprise," and that staffers had "been fighting behind the scenes against the party-line Trump propaganda for some time, but without any success, unfortunately."
JUST IN – Jordan Schachtel and Jarrett Stepman have also resigned from Breitbart pic.twitter.com/ViA1PFuDJr

— Hadas Gold (@Hadas_Gold) March 14, 2016
"I signed my contract to work as a journalist, not as a member of the Donald J. Trump for President media network," Schachtel wrote. "As recent events have proven, there is no longer a point in trying to reform the company from within, so I must step aside with my dignity intact.
Stepman decried Breitbart's "unacceptable journalistic behavior" and blasted the outlet for "becoming less of a news site and more of a propaganda organization dedicated to the Trump campaign."
Breitbart reporter Michelle Fields resigned after she was allegedly assaulted by Trump campaign manager Corey Lewandowski, and her employers attempted to diminish her credibility. She was joined by former Breitbart editor-at-large Ben Shapiro; Shapiro's father, David Shapiro (who wrote for the site under a pseudonym); and former Breitbart spokesperson Kurt Bardella, who called the outlet a "de facto super-PAC for the Trump campaign" on Fox News Monday afternoon.
[h/t Politico]
Have a tip we should know? tips@mediaite.com