Two To Wango Tango: Mitt Romney Sought Ted Nugent's Endorsement, Should Answer For It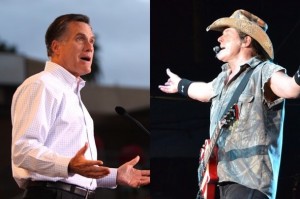 It's one of the political games people play: trying to get political figures to own something that someone else said. A particularly egregious example of this was last week's Hilary Rosen flap, when the media and the Obama administration foolishly played along. But while Rosen had no connection to the President whatsoever (and really said nothing wrong), Republican candidate Mitt Romney actively sought the endorsement of serial mouth-bomber Ted Nugent, and ought to be asked if he agrees with him.
The "controversy" over CNN analyst Hilary Rosen's remarks is well on its way to being a net negative for Mitt Romney, no thanks to the Obama administration. This is the rare occasion when President Obama should have taken a page from Newt Gingrich, and scolded the media for asking a true "Gotcha!" question. When political leaders have to start answering for everything anyone on their side of the aisle says, chaos reigns.
Similarly, Mitt Romney shouldn't have to answer for every idiotic thing ever said by a conservative, if only due to time constraints. However, it is fair to ask him if he agrees with those whose endorsements he has actively sought, such as oral diarrheac Ted Nugent. Nugent took his overcompensating tough-guy act to last weekend's National Rifle Association conference in St. Louis, where he dropped "outrageous" bon mots about President Obama and the Democrats, whom he apparently… wants to get head from?
That's a recurring theme for Nugent, who also famously suggested that then-Senator Barack Obama "suck on" his "machine gun," while imploring "worthless bitch" and then-Senator Hillary Clinton to "ride" said "machine gun," along with "worthless whore" Senator Dianne Feinstein.
Look, I don't begrudge the aging rocker his Nuge and pony show. When talent and brains elude you, you've got to work whatever hustle you can, and Nugent has parlayed his washed up rock career into a second act as the World's Most Famous Gun Nut. Good for him.
I'm not even that worked up over Nugent's latest salvo. Fish gotta swim. But the Nuge's endorsement of Romney is illustrative of Gov. Romney's desire to have everything both ways, plus several other alternate ways you didn't even think of. He sought out Nugent's endorsement, even capitulating to demands from the Motor City Madman, yet his campaign (which sends an email whenever some random Acting County Clerk endorses their candidate) never sent out an announcement about it. They lock up the Cat Scratch Fever vote, without having to get any Nuge on their faces.
This is the big show now, the general election, and Romney ought to explain why he sought Nugent's endorsement, and whether he shares Nuge's values. To that end, I have sent the following questions to the Romney campaign:
According to The Texas Tribune (and Mr. Nugent himself), Governor Romney sought and secured Ted Nugent's endorsement in March. Why didn't the campaign announce this endorsement?
Does Governor Romney agree with Mr. Nugent that President Obama and his administration are "vile," "evil," and "anti-American," and that they are "wiping their asses with the Constitution?"
Does Governor Romney agree with Mr. Nugent that President Obama should "suck on" his "machine gun?"
Does Governor Romney agree with Mr. Nugent that Hillary Clinton is a "worthless bitch" who should ride his "machine gun?"
Does Governor Romney agree with Mr. Nugent that Sen. Dianne Feinstein is a "worthless whore?"
Does Governor Romney agree that 30 year-old men should become legal guardians to their 17 year-old lovers?
Does Governor Romney agree that Massachusetts is "not in America?"
Does Governor Romney appreciate Mr. Nugent's other artistic endeavors, such as this painting?
I resisted the urge to ask if Romney's Massachusetts health care reform law included a mandatory coverage for the treatment of Cat Scratch Fever.
In case you missed it, here's the video of Nugent's performance at that NRA conference this past weekend:
Have a tip we should know? tips@mediaite.com