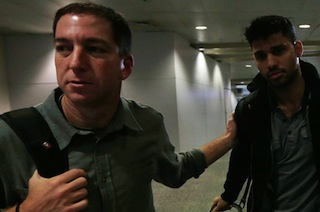 England's Britain's Metropolitan Police Service defended the detention of Glenn Greenwald's partner David Miranda as "legally and procedurally sound" on Tuesday, pushing back against criticism from Greenwald and his paper the Guardian that the action was meant to intimidate them in response to their reporting on GCHQ espionage activities.
"The examination of a 28-year-old man under Schedule 7 of the Terrorism Act 2000 at Heathrow Airport on Sunday 18 August was subject to a detailed decision making process," the MPS said in a statement. "The procedure was reviewed throughout to ensure the examination was both necessary and proportionate."
"The Government and the police have a duty to protect the public and our national security," said a spokesman for the Home Office. "If the police believe that an individual is in possession of highly sensitive stolen information that would help terrorism, then they should act and the law provides them with a framework to do that. Those who oppose this sort of action need to think about what they are condoning."
RELATED: U.S. Denies Role in Detaining Greenwald's Partner, Says U.K. Gave 'Heads Up'
Miranda was detained by British authorities for nine hours Sunday morning, the maximum amount of time allowed under schedule 7 of the Terrorism Act of 2000. He had been en route to the home he shares with Greenwald in Rio de Janeiro from Berlin, where he had been staying with Laura Poitras, a filmmaker with whom Greenwald has worked closely on his Edward Snowden pieces. Miranda said authorities questioned him about Greenwald's reporting, and seized much of the electronic equipment he had with him.
[h/t CNN]
————
>> Follow Evan McMurry (@evanmcmurry) on Twitter
Image via the Guardian
Have a tip we should know? tips@mediaite.com