U.N. Ambassador: U.S. Thought Iran Wouldn't Tolerate Syria Using Chemical Weapons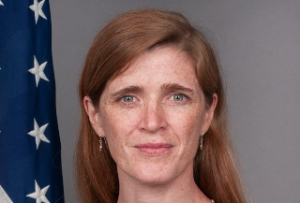 United Nations ambassador Samantha Power spoke on Friday to the Center for American Progress, continuing the Obama administration's attempts to win over more liberals for Syrian military strikes. In laying out a more humanitarian argument for intervention, Power spoke of all the non-military tactics the United States attempted beforehand, revealing that they were hoping the U.N. would be able to come up with a report on Syria's use of chemical weapons that would "convince Russia or Iran… to cast loose" Syria.
Power argued in her speech that the United States has pursued every single non-military option possible with no success in deterring the use of chemical weapons in Syria. She talked about the U.S.' attempts to work with the United Nations and what an official report might accomplish.
We worked with the UN to create a group of inspectors and then worked for more than six months to get them access to the country, on the logic that perhaps the presence of an investigative team in the country might deter future attacks. Or if not, at a minimum, we thought perhaps a shared evidentiary base could convince Russia or Iran – itself a victim of Saddam Hussein's monstrous chemical weapons attacks in 1987-1988 – to cast loose a regime that was gassing its people.
That remark stuck out, considering what Iran has been saying recently about potential strikes in Syria. U.S. officials recently intercepted a message in which Iran appeared to suggest retaliation for any Syrian strikes on the part of the United States, culminating in what is surely one of the most amusing headlines to emerge from this crisis:
"Iran Softens Public Tone, Plots Revenge for U.S. Attack on Syria"
[h/t Washington Examiner]
[photo via State Department]
— —
Follow Josh Feldman on Twitter: @feldmaniac
Have a tip we should know? tips@mediaite.com
Josh Feldman - Senior Editor