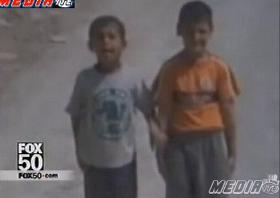 A U.S. soldier stationed in Alaska has been ordered to remove a Facebook video he appears to have shot of two Iraqi children, in which he can be heard using gay slurs and asking if they're "gonna grow up to be a terrorist."
Raleigh, N.C. local TV station broke the story – and their follow-up report has the video in full.
The soldier, Spc. Robert A. Rodriguez, posted the video with the title "future gay terrorist" with the description, "i got bored in iraq…so i kept myself entertained!"
The person on the video (it's unclear it is Spc. Rodriguez, although the description certainly makes it sound like it is) asks whether the two young boys are gay, using a gay slur, and if they engage in a sex act. Next, he asks, "You gonna grow up to be a terrorist?" while the boys give a thumbs up, presumably not understanding the question.
One soldier who WRAL played the video to called it "stupidity and boredom" and the army's official response so far is that the video is "disgraceful" and the matter is "currently under investigation."
This story is less about the U.S. military (this is, after all, one video) than it is about new media. For a local television station to so easily find this video on Facebook and share it with its audience shows the resource to bring important stories to light that the social networking site provides. According to TV Eyes, this hasn't hit the cablers or the broadcast networks – when it does, it will force quick action from the military to deal with this offensive video.
Here's WRAL's latest report:

—–
» Follow Steve Krakauer on Twitter
Have a tip we should know? [email protected]