U2 Cancels St. Louis Concert as Area Braces For More Protests Following Stockley Acquittal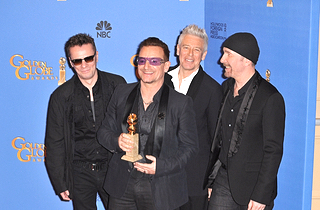 Yesterday, following the acquittal of former St. Louis police officer Jason Stockley, protests flared up in the downtown and Central Wet End areas of St. Louis. The protests grew as night fell, culminating in roughly a thousand demonstrators surrounding Mayor Lyda Krewson's home. By the end of the night, Krewson's home sustained some broken windows and vandalism, 32 protesters were arrested, and nine police officers were injured.
With protests expected to continue in the area throughout the weekend, a number of planned events have been canceled. And this morning, legendary rock band U2 made the decision to cancel their concert at the Edward Jones Dome scheduled for this evening, citing the lack of police protection from the city for their fans.
Below is their statement on the cancellation:
"We have been informed by the St. Louis Police Department that they are not in a position to provide the standard protection for our audience as would be expected for an event of this size.
We have also been informed that local crowd security personnel would not be at full capacity.

In light of this information, we cannot in good conscience risk our fans' safety by proceeding with tonight's concert. As much as we regret having to cancel, we feel it is the only acceptable course of action in the current environment." – Live Nation and U2
Stockley, a white man, was charged with first-degree murder for a 2011 fatal shooting of Anthony Lamar Smith, a black motorist. Prosecutors contended that Stockley had planned to kill Smith during a car chase of Smith and then planted a gun in Smith's vehicle after the fatal encounter. Stockley could be heard on the police dashcam saying he was going to "kill this motherf*cker" and only Stockley's DNA was on the weapon found in Smith's car.
[image via Shutterstock]
—
Follow Justin Baragona on Twitter: @justinbaragona
Have a tip we should know? [email protected]
---