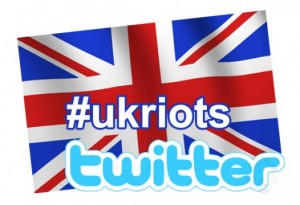 Remember those riots in England that we were all fixated on for a few days before our attention turned to other stuff? Well, you may have heard that Parliament was actually considering temporary blocks on social media sites during times of violent unrest.
Prime Minister David Cameron talked to police during the riots to discuss, among other things, "whether it would be right to stop people communicating via these websites and services when we know they are plotting violence, disorder and criminality." A Labour MP suggested shutting down Blackberry service during the riots, while one Tory MP argued that "We'd all survive if Twitter shut down for a short while during major riots." And a recent survey of 2000 Brits found that roughly half of them would favor temporary blocks on social media.
After weeks of negotiations, the ultimate decision of the British government was to not ban these services, even during riots. In fact, some government spokesmen admitted there are no plans to censor the internet on the docket.
Spokespeople for Twitter and Facebook welcomed the decision, and said their respective companies are committed to individual safety as well as the public's right to information. Government officials praised the talks as constructive for the public dialogue.
A Home Office statement said the Home Secretary, Theresa May, the Culture Secretary Jeremy Hunt, and the Foreign Office minister Jeremy Browne had had a "constructive" discussion with the industry about how to prevent the networks from being used to organise criminal behaviour.

A spokesman added: "The discussions looked at how law enforcement and the networks can build on the existing relationships and cooperation to crack down on the networks being used for criminal behaviour."
According to the Guardian, British police have "acknowledged that they 'needed to do more' with regard to learning how to use social media." Not only that, but they are "slightly behind" other forces regarding Facebook and Twitter. Not to sound too much like an anti-Luddite, but now that we're over a decade into the 21st century, shouldn't people have government officials who understand the influence and magnitude of new technologies?
Now when I first heard about this, my reaction was "How dare England even consider censorship! We would never do this sort of thing in America!" And then a few days later BART police in San Francisco shut down cell service during a protest in the Metro.
ACLU staff attorney Michael Risher criticized the BART shutdown as "the kind of thing we hear about happening in oppressive regimes." And yes, there is truth in that statement. We want people in the Middle East to be able to access the internet, so why are we talking about censoring it? Why are democracies like the United States and England taking advantage of tools we cite as being essential for free societies in other countries? Just saying.
Have a tip we should know? tips@mediaite.com
Josh Feldman - Senior Editor