Um…Wow. James O'Keefe Responds To Critics With Hackneyed Music Video (Really)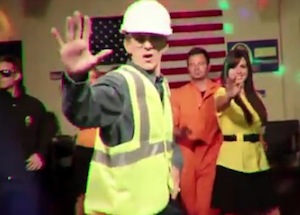 James O'Keefe is the provocative "film maker" who can successfully list ACORN and Vivian Schiller's career at NPR as toppled targets. However, his technique of filming his subjects with hidden camera and editing out important context have received fairly harsh criticism from reasonable people on both the left and the right.
Somewhere in the last few weeks or months, O'Keefe and his friends must have gotten together and brainstormed for the proper response to all of the criticism directed his way, and came up with the following: a cheesy music video that fails a both earnest entertainment and ironic pastiche, but is unintentionally hilarious to watch!
The song is entitled "Landrieu Dance" and it was first presented on Andrew Breitbart's site Big Journalism. Director Christian Hartsock ostensibly explains the inspiration for the super odd music video (without really explaining why the video exists):
As Saul Alinsky would have it, they have picked us as targets, frozen us, personalized us, and attempted to polarize us by attaching winning catch-terms out of their apparently limited vocabulary: "hoax," "racist," "heavily-edited."

I covered the MSM's reaction to the ACORN tapes in column after column. After the tapes were released, a tax-payer funded community organization giving tax fraud advice to a couple with an underage human trafficking ring didn't matter – as Rachel Maddow addressed the real question: Was James wearing his grandmother's chinchilla inside the offices, or just the B-roll? And of course my pal Tommy Christopher of Mediaite.com and Max Blumenthal of Salon.com wanted to know, was James' pimp outfit meant to imply "racial overtones"? Courage, guys.

When James was arrested in New Orleans for entering an office open to the public to see if Sen. Mary Landrieu's staffers would confirm or deny that the senator's phone lines were indeed jammed as Landrieu had claimed in the midst of constituent outrage over her nefarious "Lousiana Purchase" deal, our friends at MSNBC wasted no time in preempting the New Orleans federal district court to deliver the verdict: It was "Watergate, Jr.," the intent was to "wiretap," and "tamper with the phone lines," and that's all you need to know – please, no follow-up questions, moving on …

After James and I released "Teachers Unions Gone Wild," exposing voter fraud, misappropriation of public funds, racism and bad faith negotiating, Media Matters insisted the soundbites were deceptively mismatched. After I released raw footage disproving this charge, I was then accused of hiring an actress (with uncannily identical vocal chords) to ADR specific parts of the actual spoken sentences. Yes, the conspiracy theory had officially reached meth addict status, yet this was somehow good enough for Media Matters and the Star Ledger.
This video confirms what many likely already thought: James O'Keefe is a delusional attention-seeker whose interest in self-promotion lacks normal (any?) self-awareness. Almost all of the standard music video cliche's are here, including an homage to Michael Jackson at the end which portrays O'Keefe smashing car windows hand-painted with criticisms he's received like "racist" and "heavily edited."
There are a number of valuable lessons in the whole endeavor: 1) critics that consider James O'Keefe to be a douchebag have more evidence to support their claim; 2) the editors at Big Journalism are either cowed by fear of O'Keefe or have absolutely no editorial judgment; and 3) this marks the day in which James O'Keefe is officially considered a joke (which may have been his intention from the start?)
Watch the video below, courtesy of Breitbart.tv:
Have a tip we should know? tips@mediaite.com