Under His Thumb: Jann Wenner Vindictively Cancels Biographer's HOF Speaking Engagement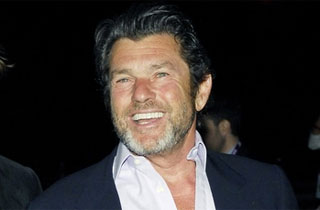 This past spring, Rolling Stone magazine publisher and founder Jann Wenner was going through some physical complications that many baby boomers are going through right now. Wenner, 71, had broken his hip playing tennis, had a heart attack as well, and was having triple-bypass surgery to unclog those blocked coronary arteries.
One more thing Wenner had to deal with: after surgery in June, he was given a biography about himself to read, written by famed journalist Joe Hagan, who had worked on the book with Wenner's help since 2013. Whether it was his health or old age nastiness creeping in, the magazine publisher didn't like the book. In fact, he told the New York Times this week that he expected the book to be "a nuanced portrait about my life and the culture Rolling Stone chronicled … instead [Joe Hagan] produced something deeply flawed and tawdry."
Some say Wenner did not like Hagan's details of some of his sexual endeavors (he is a gay man married to a woman), or his penchant for lording over his writers and staff at Rolling Stone. But the 560-page book, Sticky Fingers: The Life and Times of Jann Wenner and Rolling Stone Magazine (Knopf, Oct. 24, 2017), has received wonderful reviews and Wenner seems not to be handling this book's publication like the cock-of-the-walk cultural impresario he portrayed himself as decades ago. One thing he has done, it appears, is to use his sway to have several speaking engagements in which Hagan going to participate get canceled. One was at the Rock-n-Roll Hall of Fame in Cleveland scheduled for early November.
The Cleveland Hall is celebrating the 50th anniversary of Rolling Stone's founding with a special exhibit this year, and were planning to have Hagan appear to read from his book as part of the festivities. They claimed this week removing Hagan from the event had nothing to do with Wenner. "This was not done at Mr. Wenner's behest," said hall spokesman Todd Mesek. "The excerpts we read take on a much different tone than we originally understood. " Mesek did not elaborate what specific "tone" was the problem.
Hagan, 46, a Contributing Writer for New York magazine, Rolling Stone, The Wall Street Journal, and many others through the years, disputes that explanation. "[The Rock-n-Roll Hall of Fame] informed my publisher that they didn't want to feature books or events that upset an inductee, and the inductee they were speaking of was Jann Wenner," Hagan told Mediaite.
"His influence on the rock-n-roll hall of fame is well documented, and it is his right to wield that influence and not the first time he has done it," Hagan continued. "As the editor and publisher of Rolling Stone, he cancelled stories he didn't like. He's the editor of the rock hall in a way, and he's cancelling me. I find it petty for him to do this, but that is how he does things."
Wenner has been perhaps the most influential member of the Rock Hall board through the years – and some musicians have accused him of stacking the voting members with his friends to keep some bands from being inducted. He himself was inducted into the hall in 2004, and their website still extolls his influence: "Wenner has also left a lasting mark on popular music as co-founder and vice-chairman of the Rock and Roll Hall of Fame … and he remains vitally active in its operation to this day."
All of this book imbroglio comes at a bad time for Wenner. Rolling Stone hit some bad times with the "A Rape on Campus" article in 2014 that was found to be lacking many factual details and lawsuits have sprung from those problems. Wenner has sold some of his media holdings, and is looking for a buyer for his shares of Rolling Stone. Plus his rock musician friends are dying, and his health took a big hit this year.
Wenner told the WSJ in 2007 that he is a "neat freak" and "there's a level of immaturity to people who just can't clean up after themselves." Maybe that's his problem with this book. It's honest about some of the messes he made, how he didn't clean some up well, and maybe that's what he didn't like about the book. As a result, he has taken that pissed-off attitude out on the writer of his bio. The writer that he approved to work with on the project.
This is an opinion piece. The views expressed in this article are those of just the author.