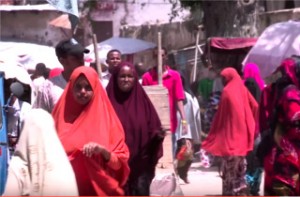 Welcome to Undercovered: our new daily feature bringing attention to excellent reporting and stories we feel deserve a larger audience.
—
Momentum is growing behind a new bill that, if passed into law, would change the way rape and sexual assault are handled in Somalia.
Sex crime legislation in Somalia is still based on an antiquated colonial-era legal code left over from the 1930s. For instance, the law still treats sexual assault and rape as "crimes against morality" (like homosexuality and bestiality) and not crimes against another person. This makes them harder to investigate and prosecute, and hundreds of rape victims in Somalia each year never see justice.
The Sexual Offenses Bill currently working its way through Somali Parliament recently got a boost in the form of an endorsement from high-level Somali officials, representatives from donor countries, and diplomats, according to Foreign Policy's Amanda Sperber.
Sexual Violence in Somalia: Challenging Impunity is a short film about the realities of unpunished sexual violence in Somalia and impact that the bill could have:
"It is hoped that the Bill will be a model for Muslim- majority countries emerging from conflicts on how to address sexual offences," Legal Action Worldwide wrote. They add:
The Bill will repeal and replace provisions from these laws ensuring that any sexual offence will be prosecuted under the new sexual offences legislation.

The Bill will introduce new sexual offences that are not provided for in the Penal Code as well as redefine and expand the scope of existing crimes.

The Bill will have a specific focus on protecting the most vulnerable groups including children and persons with disabilities.
You can read more about the Sexual Offenses Bill on Legal Action Worldwide or on Foreign Policy.
—
Undercovered is a new daily feature from Mediaite, bringing attention to stories that warrant more attention. If you have an idea or a tip, please email us at Undercovered@mediaite.com
[image via screengrab]
Have a tip we should know? tips@mediaite.com