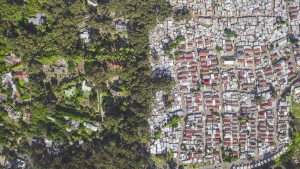 Welcome to Undercovered: our daily feature bringing attention to excellent reporting we feel deserves a larger audience.
—
A new project employs drone photography to starkly reveal enormous discrepancies between rich and poor neighborhoods in South Africa, showing a country still riven by inequality over two decades after the end of apartheid.
"During apartheid, segregation of urban spaces was instituted as policy," Johnny Miller, the photographer behind "Unequal Scenes," writes on his website.
"Roads, rivers, 'buffer zones' of empty land, and other barriers were constructed and modified to keep people separate. 22 years after the end of apartheid, many of these barriers, and the inequalities they have engendered, still exist. Oftentimes, communities of extreme wealth and privilege will exist just meters from squalid conditions and shack dwellings."
Pictured at left above is Hout Bay and Imizamo Yethu. Miller writes that Hout Bay is "a picturesque valley" home to "several wealthy housing estates, hotels, and small farms," while Imizamo Yethu "is comprised of both a designated housing area and an 'informal settlement' area, which is largely comprised of small shack dwellings which stretch up the steep slopes of the mountain behind it."
Pictured below is Vukuzenzele and Sweet Home: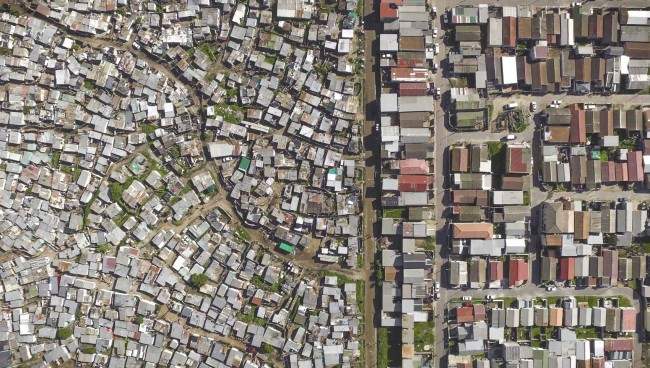 The rest of the images are viewable on Miller's website. Unequal Scenes is also on Facebook and Twitter.
—
[all photographs © Johnny Miller / Milefoto]
Undercovered is a new daily feature from Mediaite, bringing attention to stories that warrant more attention. Go through the Undercovered archives here. If you have an idea or a tip, please email us at Undercovered@mediaite.com 
Have a tip we should know? tips@mediaite.com