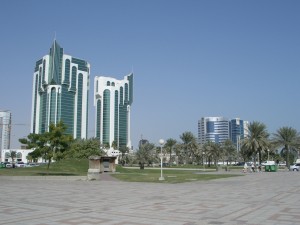 Welcome to Undercovered: our daily feature bringing attention to excellent reporting and stories we feel deserve a larger audience.
—
A 22-year-old Dutch woman was drugged and raped while on vacation in Doha, the capital city of Qatar; when she reported the assault to the police, she was arrested for having sex outside of marriage.
The attack happened in March, but was reported on only this weekend after the victim's family decided to go public. The BBC reports that the woman was arrested by Qatari police after stepping forward, and her lawyers were told they would have to prove that "no voluntary actions" had been taken between her and her assailant in order for him to be charged with rape.
Doha-based lawyer Najeeb al-Nuaimi, Qatar's former justice minister, told the Qatar-based broadcaster Al Jazeera the woman's lawyers would have had to prove there had been "no voluntary actions" between her and the man for him to be charged with rape.

Even if they had been seen walking together, the authorities might have doubts any sexual activity was non-consensual and instead prosecute both for having sex outside marriage, which is known as "zina" under Islamic law, Mr Nuaimi said.
Qatar's penal code states that a man who "copulates with a female over 16 without compulsion, duress or ruse," can be punished with a prison term of up to seven years, but the code also imposes the same penalty on the female "for her consent," the BBC reports.
The victim was handed a suspended sentence, fined $824, and will be deported. Her attacker, who maintained that the sex was consensual, was sentenced to 100 lashes for zina and an additional 40 lashes for alcohol consumption.
The BBC notes that the case "raises further questions about how the Qatari authorities will deal with the thousands of Western tourists expected to travel to the country for the 2022 Fifa World Cup, many of whom may be unfamiliar with its laws."
—
Undercovered is a new daily feature from Mediaite, bringing attention to stories that warrant more attention. If you have an idea or a tip, please email us at Undercovered@mediaite.com
[photo: Doha, Qatar via Wikicommons]
Have a tip we should know? tips@mediaite.com