Undercovered: Court to Consider Whether Muslim Custom Violates Women's Rights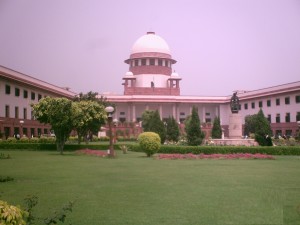 Undercovered is our daily feature bringing attention to excellent reporting on women's issues worldwide, which we feel deserves a larger audience.
—
India's Supreme Court will consider whether or not certain Islamic laws that pertain to marriage and divorce violate women's rights.
One deeply engrained Muslim custom — the triple talaq — holds that a man can divorce his wife simply by saying the word "talaq" three times.
New Europe writes:
As reported by the Hindustan Times, the debate around triple talaq had received a shot in the arm earlier this year when a victim, Shayara Bano of Uttarakhand, filed a petition in the apex court seeking a ban on the practice. She also challenged the practices of polygamy and nikahhalala, which mandates that a woman has to marry another man and consummate it if she and her divorced husband wish to get back together.

"Shayara Bano in her petition said the inhuman practice of triple talaq affected her fundamental rights, besides violating her dignity as a woman," says Balaji Srinivasan, advocate on record for Bano and Gulshan Parveen, another petitioner. "Shayara Bano's challenge of the practice is the first instance of an individual from the community seeking legal recourse against the practice."
Reportedly, technology has enabled men to divorce with even greater ease as they have been transmitting the triple talaq via text message and WhatsApp.
You can read the complete report here.
—
Undercovered is a daily feature from Mediaite, bringing attention to stories about women's rights that warrant more attention. Go through the Undercovered archives here. If you have an idea or a tip, please email us at Undercovered@mediaite.com
[photo: Legaleagle86 via Wikicommons]
Have a tip we should know? tips@mediaite.com