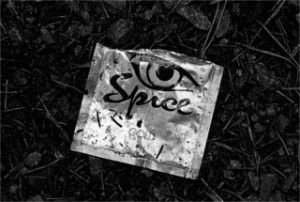 Welcome to Undercovered: our new daily feature bringing attention to excellent reporting and stories we feel deserve a larger audience.
—
Prescription painkiller abuse and opioid addiction have been in the fore lately, getting airtime on the campaign trail, a CNN town hall special, and a recent PSA that united President Obama and Macklemore.
But there is another epidemic of drug abuse destroying communities and challenging law enforcement, also stemming from a class of drugs that are not, strictly speaking, illegal.
Designer drugs have posed a significant obstacle to lawmakers and law enforcement officers, because they are being invented and marketed faster than legislators can write and pass bills to outlaw them.
These include artificial cannabinoids, which have been marketed in the US with names like "spice" and "K2." These are laboratory-created drugs that mimic the psychoactive effects of cannabis, but are far stronger, deadlier, and more addictive.
In a paper published in April in LCGC, researchers specifically described it as an "arms race" between law enforcement and inventive chemists:
In recent years, synthetic cannabinoids ("K2" or "spice") have experienced a boom in popularity.The negative health effects of these drugs coupled with their increasing popularity led to placement onto Schedule I by the Drug Enforcement Administration (DEA). In response, the chemists behind these illicit compounds frequently invent new compounds to circumvent the law. Thus, new classes and new examples within classes of "spice" continue to become available for illicit use.
The Independent reports this week that the United Kingdom currently has the largest market for these "legal highs." They interviewed one user who described the effect as "like cannabis, with the effect of heroin."
In the UK, a government ban on these drugs was scheduled to go into effect in April, but was delayed amid concerns that it the statute's definition of "psychoactive substance" was too broad and non-specific to be properly enforced. The Guardian reported that Scottish law enforcement had raised concerns that each individual case of a person arrested with potentially illegal drugs would require an examination by a medical professional to make a determination about what type of substance had been used or possessed, and whether it fit the criteria of the new ban. The ban is now scheduled to go into effect this Thursday.
It's a challenge on the other side of the Atlantic as well. In San Diego on Monday the city council proposed a broad ban on "novel synthetic drugs" and "novel psychoactive drugs."
CBS 8 reports:
CBS News 8 – San Diego, CA News Station – KFMB Channel 8
Like the UK ban, the legislation leans toward being over-inclusive. The goal is to address any new drugs that fall through the cracks of state and federal law, including various forms of "spice," which have caused some 650 calls of medical distress since November, and the San Diego Chief of Police told reporters that between Oct. 2015 and Feb. 2016 spice calls increased 256%.
And so the "arms race" continues.
—
"Undercovered" is a new daily feature from Mediaite, bringing attention to stories that warrant more attention. If you have an idea or a tip, please email us at Undercovered@mediaite.com
[image: Matto Fredriksson via Flickr]
Have a tip we should know? tips@mediaite.com