Undercovered: UN Creates Policy on Sex Workers, Without Input From… Sex Workers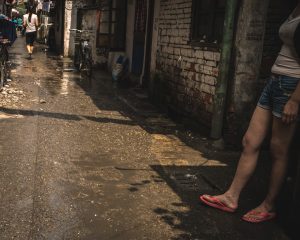 Undercovered is our daily feature bringing attention to women's issues worldwide, which we feel deserve a larger audience.
—
A UN Women initiative to develop a policy regarding sex workers has come under fire from activists who say that the project ignores wide swaths of people from the developing world, whose lives will be impacted by the policy.
The Guardian's Liz Ford reports:
The Global Network of Sex Work Projects (NSWP) said many of the sex workers who will be affected by any UN policy change live in developing countries where access to the internet remains low.

The NSWP also criticised the UN agency for the short timescale of the six-week consultation, which closes on 16 October, and for framing it in bureaucratic language that will be largely meaningless to people unfamiliar with UN agreements or terminology.

[…] Morgan Thomas said the network welcomed the fact that UN Women wanted to have a discussion about its sex worker policy, but "the reality is that the majority of sex workers in developing countries have limited access to the internet".

She said the consultation was not available in many languages, further excluding workers in countries where literacy levels are low.

The process "addresses privileged women", and was "not an accessible consultation process for a community that UN Women recognises are marginalised".
You can read the complete report here.
—
Undercovered is a daily feature from Mediaite, bringing attention to stories about women's issues that warrant more attention. Go through the Undercovered archives here. If you have an idea or a tip, please email us at Undercovered@mediaite.com
[image: Lee Han, via Flickr (CC BY-NC-ND 2.0)]
Have a tip we should know? tips@mediaite.com