Undercovered: UN Population Fund Designates Female Genital Mutilation as 'Child Abuse'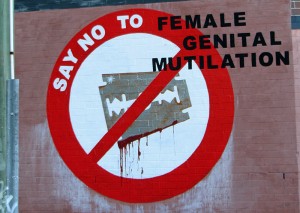 Undercovered is our daily feature bringing attention to excellent reporting on women's issues worldwide, which we feel deserves a larger audience.
—
In an announcement remarkable perhaps only for the fact that it has taken so long, the United Nations Population Fund has finally designated the practice of female genital mutilation as a form of "child abuse."
The BBC reports:
Dr. Babatunde Osotimehin told the BBC that the custom was a human rights abuse and needed to end immediately.

More than 200 million women and girls around the world have undergone the procedure, where parts of the female genitals are removed.

The UN estimates a further three million are at risk of being mutilated.

Dr Osotimehin said: "There is absolutely no reason to cut anybody, and it seemed to us that it is part of the gender imbalance that has always existed in these communities which are based on patriarchy. I think it's child abuse."
The UNFPA had previously defined the practice, which is mainly practiced in parts of Africa, the Middle East and Asia, as a human rights violation, but stopped short of calling it child abuse.
The organization has worked to promote and expand reproductive and maternal health worldwide since its inception in 1969.
—
Undercovered is a daily feature from Mediaite, bringing attention to stories about women's rights that warrant more attention. Go through the Undercovered archives here. If you have an idea or a tip, please email us at [email protected]
[image: Newtown Grafitti via Flickr CC BY 2.0]
Have a tip we should know? [email protected]
---