University Cancels Bristol Palin's Abstinence Speech Amid Protests Over Her 'Lack Of Expertise'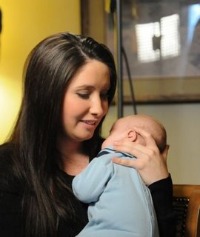 Bristol Palin was scheduled to speak to students at Washington University last night – a speaking engagement which would reportedly have earned Palin somewhere between $15,000 and $30,000 – but her appearance was canceled after students grew upset that student funds would be used to pay her fee. In fact, the university's Student Union Treasury approved a total of $20,000 to sponsor the panel, although those involved were asked not to divulge the specific amount Palin would make.
Palin was initially asked to speak about abstinence as part of the school's "Student Sexual Responsibility Week." Palin, as you might know, became a single mother to son Tripp at age 18, then carried out a very public break-up, engagement, and re-break-up with her child's father, former amateur hockey player and part-time nude model Levi Johnston. As if this wasn't enough to convince young people that abstinence is preferable to having sex with men who refer to themselves as "Ricky Hollywood," she also commands several thousands of dollars with her speaking engagements, telling the young and impressionable to save it for marriage.
Students created a Facebook petition in their effort to have the school cancel Palin's appearance, although they insisted that their issue was with the amount of money being spent on her talk, and not with Palin or her views – although some did have some concern about her "lack of expertise" concerning abstinence.
Instead of Palin, students had the opportunity to listen to Dr. Katie Plax, Washington University School of Medicine's head of adolescent medicine and associate professor in its Department of Pediatrics.

Ed. note – thanks to Greta Van Susteren for graciously permitting us to to use the photo that she took!
Have a tip we should know? tips@mediaite.com