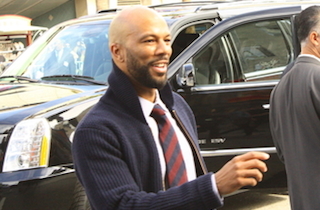 Is it "banning commencement speakers" season already?
Common recently won an Oscar for the song "Glory," from Selma, but some lyrics of his just cost him a commencement speaking gig at New Jersey's Kean University.
"The students expressed interest in Common because he composed the Oscar-winning song Glory with our prior commencement speaker John Legend," a Kean spokesperson said, per The Record. "While we respect his talent, Kean is pursuing other speaker options."
State police had complained about "A Song for Assata," a 2000 song in which Common defended a woman convicted of killing Trooper Werner Foerster. The song includes lyrics critical of the police's treatment of Joanne Chesimard, who eventually escaped prison for Cuba:
Scandalous the police were as they kicked and beat her
Comprehension she was beyond, tryna hold on
To life. She thought she'd live with no arm
That's what it felt like, got to the hospital, eyes held tight
They moved her room to room-she could tell by the light
Handcuffed tight to the bed, through her skin it bit
Put guns to her head, every word she got hit
"Who shot the trooper?" they asked her
Put mace in her eyes, threatened to blast her
The trooper's organization called it a "slap in the face."
"A state university that is subsidized with state taxpayer funds is once again being questioned on their decision-making at the highest levels," said the head of State Troopers Fraternal Association of New Jersey. The fraternal organization also protested Common's 2011 invitation to the White House.
The school deleted its tweeted announcement, and tweeted that the selection was not official yet. Responses indicated that Common had already been announced as the speaker:
Commencement speaker not official yet. Stay tuned.

— Kean University (@KeanUniversity) March 31, 2015
On Wednesday afternoon, Selma director Ava DuVernay tweeted in support of Common:
— Ava DuVernay (@AVAETC) April 1, 2015
Last year saw controversy after controversy erupt over university choices of commencement speakers, with figures such as Condoleezza Rice losing their gigs after student protests.
Listen to the song below:
[h/t The Record]
[Image via RoidRanger / Shutterstock.com]
——
>> Follow Evan McMurry (@evanmcmurry) on Twitter
Have a tip we should know? tips@mediaite.com