Updated List as More Suspicious Packages Found Addressed to Eric Holder, Waters, and Others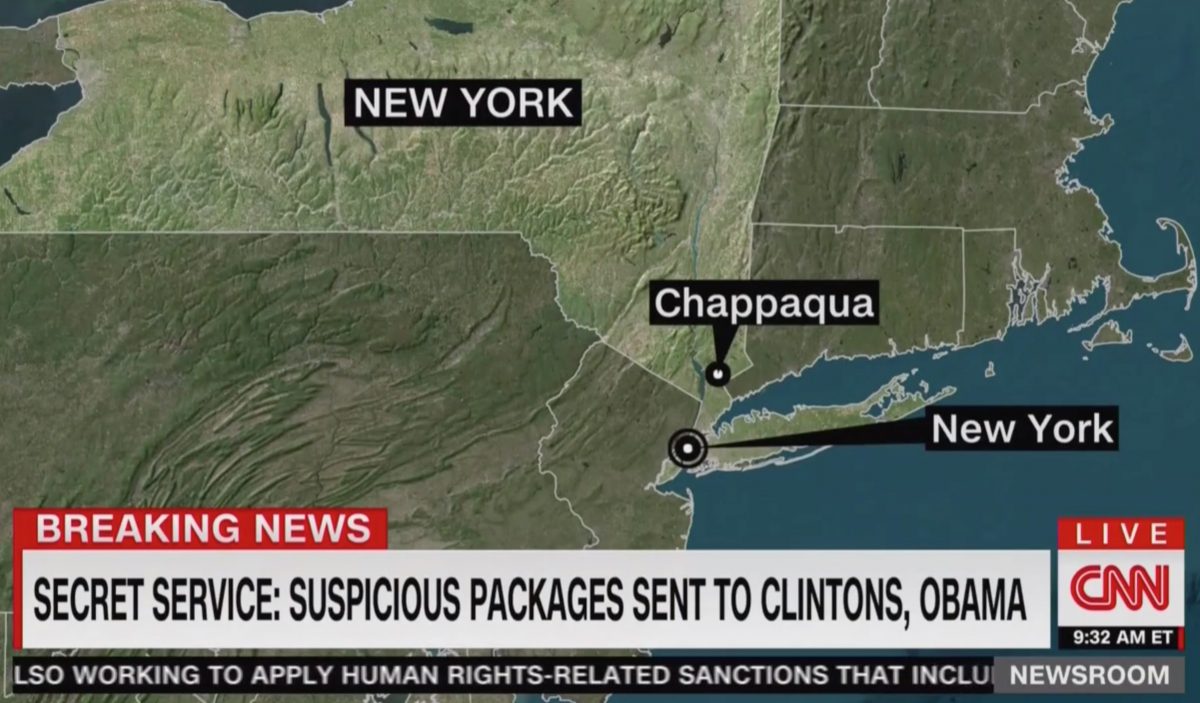 The pipe bomb sent to George Soros on Monday was the first of what turned out to be a number of suspicious packages sent this week.
We are keeping an updated list here of all of the suspicious packages that have been discovered.
George Soros
A pipe bomb was sent to Soros' home on Monday. Per The New York Times, law enforcement officials believe it was hand-delivered and not delivered by the Postal Service.
John Brennan c/o CNN
Brennan is not employed by CNN, but for some reason an explosive device addressed to him was sent to the Time Warner Building in New York. The network immediately evacuated.
This is the suspicious package received this morning at the Time Warner Center, which houses the CNN New York bureau.

Police say the package appeared to be a "live explosive device." It has now been removed and taken to a NYPD facility in the Bronx. https://t.co/i3L1yqDfja pic.twitter.com/YPYQ9T9T3w

— CNN (@CNN) October 24, 2018
Hillary Clinton
An explosive device sent to the Clintons was intercepted by the Secret Service.
Barack Obama
The explosive device sent to the former president was intercepted as well.
Maxine Waters
There was a suspicious package intercepted at a Congressional mail facility addressed to Waters.
Eric Holder c/o Debbie Wasserman Schultz
You may have noticed above, in the image of the package sent to CNN, that the return address was listed as an office belonging to Congresswoman Debbie Wasserman Schultz. This was the case with several of the suspicious packages found, including one addressed to former Attorney General Eric Holder. But what appears to have happened is that this package had the wrong address and was sent back to the return address––Wasserman Schultz's office.
Gov. Andrew Cuomo
Cuomo revealed this afternoon that a suspicious device was sent to his office in Manhattan.
One NYPD official reportedly said the package turned out to be an "informational package":
An NYPD official says the "suspicious package" at Cuomo's office was in fact just an informational package containing literature, per @soniamoghe. https://t.co/OZHihNXQTk

— erica orden (@eorden) October 24, 2018
UPDATE –– 3:14 pm ET: The information within said package apparently turns out to be Proud Boys-related:
A preliminary investigation on the package at @NYGovCuomo's office shows it is computer files on the hate group, The Proud Boys, who recently appeared in New York.

— Rich Azzopardi (@RichAzzopardi) October 24, 2018
San Diego building
The building in question houses the staff of the San Diego Union-Tribune and an office for Senator Kamala Harris. The package was not addressed to Harris:
NBC News: Per a statement from Sen. Kamala Harris' office and local police there is NO suspicious package at the Senator's office in San Diego and the item police did check out was not addressed to her and was found to not be a device of any kind. Reported w/ @anblanx

— Tom Winter (@Tom_Winter) October 24, 2018
Joe Biden
A ninth package addressed to the former vice president is under investigation at a mailing facility in Delaware.
Federal authorities confirm another suspicious package was sent to former Vice President Joe Biden, @edokeefe reports. The package, which is consistent with the other ones sent to Democrats and CNN offices, was found at a facility in New Castle, Delaware. https://t.co/e2hhbMxlJc pic.twitter.com/8z05HOnrYn

— CBS News (@CBSNews) October 25, 2018
Have a tip we should know? tips@mediaite.com