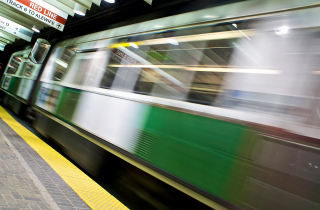 It's become a matter of common sense that we have no expectation of privacy when we're on the internet anymore, whether it's intrusions from data-mining companies who want to market our hopes and dreams back to us, hackers trawling our email accounts for n00dz, or Barack Obama personally compiling a list of everyone who's ever forwarded a comic sans email chain about Second Amendment-defending wounded marine dogs or whatever. The point is, the panopticon is real. What's more, most of us kind of like it.
But strangely, we still seem to expect some level of privacy when we're out in the actual physical meat world, traveling to the store to buy meat and so on. You can take certain precautions with your online presence, such a refraining from running your genitals through a Kelvin filter, and not posting personal details on social media, but it's a lot harder to make yourself invisible IRL, although that would be super cool if you could. Then again most people who could turn invisible would probably only use that power to take secret photos of naked women so never mind.
A case in front of the Massachusetts Supreme Judicial Court points up just how confusing the idea of how far our expectations of privacy extend is. A man named Michael Robertson had been charged in 2010 with taking "up-skirt" pictures of women on the MBTA subway system. But the court ruled today in favor of his appeal that the so-called "Peeping Tom" law under which he was charged did not actually apply in this case, reversing the ruling of a lower court.
The law says it is illegal to photograph, videotape or electronically surveil someone "who is nude or partially nude, with the intent to secretly conduct or hide such activity, when the other person in such place and circumstance would have a reasonable expectation of privacy in not being so photographed, videotaped or electronically surveilled, and without that person's knowledge and consent…"
The state of being "partially nude", in case you were wondering, also has a legal definition, meaning "the exposure of the human genitals, buttocks, pubic area or female breast below a point immediately above the top of the areola."
In other words, pictures of your panties are fair game ladies. As the court explained, (via Boston Magazine):
"We interpret the phrase, 'a person who is … partially nude' in the same way that the defendant does, namely, to mean a person who is partially clothed but who has one or more of the private parts of body exposed in plain view at the time that the putative defendant secretly photographs her," Supreme Judicial Court judges ruled this week. "A female passenger on an MBTA trolley who is wearing a skirt, dress, or the like covering these parts of her body is not a person who is 'partially nude,' no matter what is or is not underneath the skirt by way of underwear or other clothing."
No matter what is or is not underneath the skirt? Pretty sure it's almost universally the same thing under the skirt, but what do I know.
The court went on to say that because the women were on the train, and not in a private place, "the two alleged victims here were not in a place and circumstance where they reasonably would or could have had an expectation of privacy." Further, the fact that the defendant was using his phone out in the open meant that he was not secretly photographing them. This is certainly going to lead to a lot more complications once Google Glass becomes more prevalent at the very least.
Massachusetts legislators are attempting to alter the language of the law to allow for broader restrictions of filming "intimate areas" (like the heart), but one has to wonder whether or not there's any point. Have you ever seen one of these technologically-inclined perverts in action? They're unstoppable in their quest to glimpse a disembodied, out of focus woman's body part. Like Terminators with indestructible metal boners.
Still, it's a disheartening ruling, and one that further enshrines into law that which we've all long known: that all women, everywhere, no matter what they are doing, are fair game for the sexualized gaze of men. Business as usual in other words.
[h/t Garrett Quinn]
[Image via Shutterstock]
— —
>> Luke O'Neil is a journalist and blogger in Boston. Follow him on Twitter (@lukeoneil47).
Have a tip we should know? tips@mediaite.com