USA Today Makes Presidential Endorsement for First Time Ever: Anyone But Trump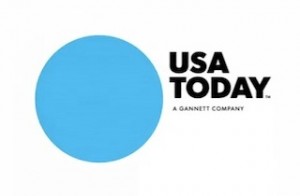 Since its inception, USA Today has never ever endorsed a candidate for President of the United States. Today they broke that streak. Sort of.
See, they didn't exactly endorse Hillary Clinton, but the USA Today editorial board was unanimous in declaring "anyone but Donald Trump."
"From the day he declared his candidacy 15 months ago through this week's first presidential debate," the paper says, "Trump has demonstrated repeatedly that he lacks the temperament, knowledge, steadiness and honesty that America needs from its presidents."
They call him "erratic," a purveyor of prejudice, an ethically-questionable businessman, and a reckless liar:
Although polls show that Clinton is considered less honest and trustworthy than Trump, it's not even a close contest. Trump is in a league of his own when it comes to the quality and quantity of his misstatements. When confronted with a falsehood, such as his assertion that he was always against the Iraq War, Trump's reaction is to use the Big Lie technique of repeating it so often that people begin to believe it.
Now, you might very well wonder why, then, this isn't a pro-Clinton editorial. Well, as they explain, the USA Today Editorial Board is very divided as to whether Clinton is a responsible, pragmatic leader or a reckless, calculating politician.
And so they make this recommendation:
Stay true to your convictions. That might mean a vote for Clinton, the most plausible alternative to keep Trump out of the White House. Or it might mean a third-party candidate. Or a write-in. Or a focus on down-ballot candidates who will serve the nation honestly, try to heal its divisions, and work to solve its problems.

Whatever you do, however, resist the siren song of a dangerous demagogue. By all means vote, just not for Donald Trump.
You can read the full editorial here.
[image via screengrab]
— —
Follow Josh Feldman on Twitter: @feldmaniac
Have a tip we should know? tips@mediaite.com
Josh Feldman - Senior Editor