VA Governor Wants Police To Use 'Great' Surveillance Drones Because 'We Use [Them] On The Battlefield'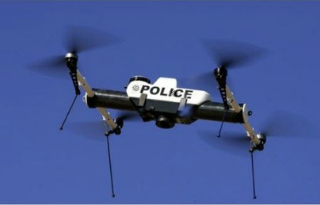 Unmanned police drones flying over the State of Virginia would be "great" and "the right thing to do," Governor Bob McDonnell told WTOP radio Tuesday morning. McDonnell, a retired U.S. Army lieutenant colonel supports the idea of using drone technology because it would make law enforcement "more productive," "cut down on manpower," and because "we use it on the battlefield."
Unmanned drones have been used in combat over Afghanistan and Iraq, as well as strikes in Yemen and Libya. Police forces in Arizona first employed them domestically to help monitor illegal immigration and trade over the U.S.-Mexican border.
"I believe if you're keeping police officers safe, and you're making them more productive, and you're ultimately saving money … then absolutely the right thing to do," McDonnell said, citing these reasons as why the military continues to use drone technology.
Not to get all "Big Brother is watching" on you, but seriously: We want to use military technology — which is notably effective at killing people with surgical precision — to police us at home?
Not only that, but we are already well aware of other police abuses, yet McDonnell and other drone-tech supporters really think the police use of drones won't lead to some egregious abuse, i.e., drones being used to spy on and potentially kill Americans on American soil?
Of course McDonnell's law-enforcement intentions are pure, but this really gives credence to an alarming trend libertarians frequently label as "the militarization of the police." Since the 9/11 attacks, the Department of Homeland Security has subsidized security cameras and military gear for local police departments, including 80 cameras for a remote Alaskan fishing village. Cities have received grants to purchase urban assault vehicles. Reason reports that police in Ogden, Utah, used federal tax dollars for a military-grade surveillance blimp outfitted with night-vision cameras.
In his radio interview, McDonnell did recognize the potential for civil liberties issues to arise. "Obviously, at some point, certain operations may need to address civil liberties concerns."
Obviously.
Have a tip we should know? tips@mediaite.com