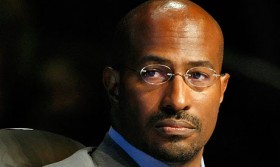 Is there a better time to bury news than Saturday night of a sleepy holiday weekend? Probably not —by Tuesday, this will be a two-day-old story that will be pushed aside in favor of focusing on Obama's scary, propagand-tastic speech to America's children. Even the Sunday shows didn't get into it too deep. Such is the holiday weekend news cycle.
So: After being at the center of a swirling, awkward controversy, Special Advisor for Green Jobs at the Council on Environmental Quality Van Jones resigned last night at virtually the stroke of midnight, in a letter blaming a "vicious smear campaign" for his decision to step down.
Wrote Jones: ""On the eve of historic fights for health care and clean energy, opponents of reform have mounted a vicious smear campaign against me. They are using lies and distortions to distract and divide."
But it wasn't a lie that Jones' signature appeared on a 2004 petition calling for an investigation into "evidence that suggests high-level government officials may have deliberately allowed the September 11th attacks to occur." Oy. Thursday evening Jones issued a statement awkwardly saying of the petition: "I do not agree with this statement and it certainly does not reflect my views now or ever." An administration source told Jake Tapper he did not carefully review the language in the petition before agreeing to add his name (Tapper also points out that other signatories protested the use of their names on the petition, claiming misrepresentation).
But no matter: Tapper called that a "tipping point" noting the non-endorsement endorsement of White House Press Secretary Robert Gibbs on Friday.  As Mike Viquiera said this morning on MSNBC, the writing was on the wall: Exit Van Jones.
The big winner in all this: Glenn Beck, who started and stirred the activism against Jones, launching into overdrive after Jones agitated against Beck through his organization, "Color of Change," resulting in numerous advertisers dropping out of Beck's program for his "Obama is a racist" comment. Beck kicked off the scrutiny into Jones' background as part of the 'public service' of examining the "czars" in the Obama Administration…and just happened to start off with Jones. (Cue the sinister music: "Who is Obama's Green Czar Van Jones? THE KILLER IS HIDING IN THE CLOSET!!!!).
The other big winner: The right-wing smear machine, which went into overdrive on Jones and "raised questions" based on non-shadowy, publicly-available information and took those "questions" to the legit media. Alex Pareene at Gawker is required reading on this front ("This is how a smear becomes a meme"). I watched the Glenn Beck video below and didn't see much that was so crazy – basically a  young change-seeking radical learning becoming less radicalized as he aged and learned how to work within the establishment – makes perfect sense.  He rose within that establishment and became a real player, with a New Yorker profile just this year about how awesome  he was. Nobel Prize winner & former Vice President Al Gore told the New Yorker: "I love Van Jones. I love his work. I love his heart and his commitment and his intellect. I love his mission. He has wisely picked a part of this set of interwoven challenges that should have been addressed much more forcefully by me and others long ago." As Pareene says, "the only special interest he's beholden to is poor people."
But – he signed that damned petition – and after bashing crazy fringey conspiracy groups, the White House did not love having their already-beleaguered guy suddenly outed as a Truther. Again: Oy. Did he know what he was signing? Howard Dean doesn't think so, and said so on Fox News Sunday today, but what does it matter? He's gone, so instead of having to fulminate about how dangerous he was Newt Gingrich could just make some mild comment and leave it at that. David Axelrod claimed on Meet The Press that the decision to step down was Jones'; well, whatever, look at Gibbs from Friday and decide for yourself.
Upshot: Was Jones a dangerous radical or a sacrificial lamb? What do you think? Gawker's Foster Kamer put it succinctly:
Apparently, all that needs to happen to provoke a White House Administration official's resignation is: a bunch of blowhards and crazies find something someone once said that was once extreme. Fixate, extrapolate, instigate, bring mainstream. And Van Jones resigned yesterday.
And that is that. There may be some investigation into how it all unfolded, but most likely there won't be – everyone's looking forward now, to a news cycle that's alive again. Who has time to rehash old news? He did sign that petition, after all.  No, the story is pretty much dead…until the next right-wing uproar, and scalp.
• Slideshow – Van Jones, Czar of Hotness
Photo via Guardian UK by Ethan Miller/Getty Images
Have a tip we should know? tips@mediaite.com