Vancouver Man Arrested For Firing His Gun Drops This Excuse: 'I Did What Joe Biden Told Me To Do'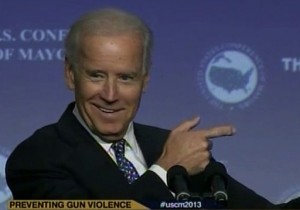 There are some defenses that work well when you're charged with a crime. Not a single one of them is "But the Vice President said!" Vancouver, Washington resident Jeffery Barton was arrested for discharging his gun into the air to scare of potential carjackers. When he was outside the courtroom, Barton explained himself with the following: "I did what Joe Biden told me to do. I went outside and fired my shotgun in the air."
Law enforcement officials explained to KOIN 6 News that you can't just fire shots into the air unless there is a legitimate self-defense concern. Barton pled not guilty to the charge, and presumably the "I was just following orders" defense won't work here.
Barton was referring to a Facebook town hall Biden held with Parents Magazine earlier this year, in which the VP received a question about banning high-capacity magazines. This is how Biden responded to the question.
"If you want to protect yourself, get a double barrel shotgun." Biden indicated that it's the same thing he tells his wife. "I said, 'Jill, if there's ever a problem, just walk out onto the balcony, put that double-barrel shotgun and fire two blasts outside the house. I promise you whoever is coming in…'"
And by the way, I looked up similar examples of people blaming President Obama for things that he had nothing to do with, and… well, let's just say the public gripes about the Commander-in-Chief are slightly more interesting.
—–
Follow Josh Feldman on Twitter: @feldmaniac
Have a tip we should know? tips@mediaite.com
Josh Feldman - Senior Editor