Viacom Reopens Access To Full Episodes Of The Daily Show And The Colbert Report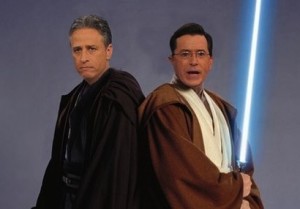 Viacom has finally relented in its battle with DirecTV and allowed all online users access to full episodes of The Daily Show and The Colbert Report after pulling them for almost a week. It was a bold move taken by Viacom in a dispute over higher content price demands on Viacom's part that led DirecTV to pull the company's channels from its airwaves.
RELATED: Jon Stewart Blasts Viacom For Removing Online Content: 'What Are You, China?'
On the websites for Comedy Central, Nickelodeon, MTV, etc., Viacom has a powerful ad campaign running to encourage consumers to call DirecTV and complain. The Daily Show's official Facebook page yesterday posted a status with the same message. But if the comments are any indication, many people seem to think Viacom is in the wrong on this one.
And with Jon Stewart ripping his own parent company for taking down the full episodes last night, this morning's reinstatement of the video service may not come as a big surprise. However, a Viacom spokesman explained today this was their plan all along.
You will remember that we never said we were taking all our full length episodes down, just sliming down our offerings. The Daily Show and The Colbert Report were on hiatus, so no recent programs were available. We know their fans have missed them — and sadly subscribers of DirecTV who have not yet switched distributors are still forced to be without all the Viacom networks they love — so we wanted to get them back on our sites as soon as we could.
Meanwhile, for what it's worth, it looks like full episodes of Viacom's other entertainment properties are back online, so good news for those of you who enjoy watching Jersey Shore. (People like that exist, right?)
h/t All Things D
[Image via]
Have a tip we should know? tips@mediaite.com
Josh Feldman - Senior Editor