Vice President Joe Biden Asks Japanese Women if Their Husbands Like Them Working Full-Time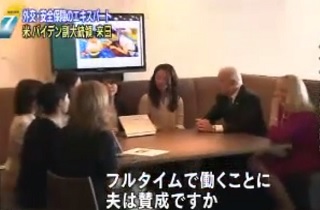 During the Japanese leg of his current Asia trip, Vice President Joe Biden let his inner Don Draper shine through for a moment when he asked a group of women at Japanese internet company DeNa "Do your husbands like you working full-time?"
Vice President Biden was touring the company in order to "highlight the need to integrate more women in the workforce," according to pool reports, so Biden's question, as Wonkette notes, probably didn't come out the way Biden intended it to:
(T)he question was aimed at showing that family and work aren't incompatible, but that's not how it came out, exactly.
This bit of Biden-ism will inevitably lead some to ask why Joe Biden gets a "pass" for something like this, why his good intentions are given the benefit of the doubt, yet the media rakes the RNC over the coals for sending out a "tweet with a typo" about Rosa Parks "ending racism." That's a legitimate question which, if conservatives could answer it, would make the world a better place for everyone.
While they ponder that question, this Biden incident also teaches us that being a reporter in the Vice Prsident's press pool is perhaps the greatest job on Earth. While most White House pool reports are drier than a powdered martini in a burlap glass, here's how Biden's poolers roll:
VP Biden and Amb. Kennedy took a tour of an internet company in Shibuya called DeNA. The idea was to highlight the need to integrate more women in the workforce, which Japan needs to do because of its aging population issues. DeNA has a progressive stance on this, encouraging women to have families while continuing to work. Biden, Kennedy and US Ambassador for Global Women's Issues Cathy Russell arrived on the 22nd floor of a Shibuya office building where young DeNA employees were arranged at various tables in the modern company cafeteria, which had a design of a modern city condo with exposed pipes ducts in the ceiling and a (faux?) brick wall on one said. The place was spotless and quiet despite the people and that made for an awkward setting in which the employees, most of whom had laptops open at their tables, appeared to be almost stock models hired to play a part in a cliche version of an internet company.

In any case, Biden entered and sat at a table with five young women. He asked if they were married and at least three said yes. Then he asked if they had kids. "Do your husbands like you working fulltime?" Biden asked at one point. One woman talked about work life balance; Biden said: "Can anyone work from home?" A woman responded: "Yes, under certain conditions." Biden began talking about an argument he had with Russell but pool was then moved to the kitchen area. Biden later came there and looked around, then took a bottle of water out of a fridge, joking that he didn't have time to eat ice cream. Biden bought the water from a cashier, who said, "Arigato gozaimashita." Biden didn't respond, but turned to the media, including local Japanese press and cameras.

Your poolers were hoping upon hope that Biden would brandish the water and declare: "It's SUNTORY time!" But, alas, he said: "Does anyone want some water?"

To which we might say, more intensity, sir.
(h/t Wonkette)
Have a tip we should know? tips@mediaite.com