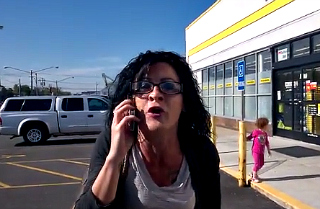 Up front: this has not been confirmed as real, as opposed to the very impressive debut of some cockeyed improv comedy group.
If it's fake, it's something else. A man took video last weekend that appears to show a woman going on an epic racist tirade in the parking lot of a Dollar General store in western New York, calling him all manner of slurs while he sits in his car and does the old give-em-enough-rope thing. It's unclear what prompted the argument between the two, though she mentions several times that his "starting his car" had scared her children.
Throughout the video the woman claims to be on the phone with, alternately, her husband and her lawyer. At one point she dares the man taking the video to call the cops, because she's "stripped for so many of them." She also accuses the man of taking the video so he could put it up on YouTube, which he most certainly did.
"I'm more upset that it was done in front of her children," he wrote below the video. "They will have hate and have no idea where it came from."
You know what happens next. Reddit is trying to hunt the woman down, leading to the comments section being shuttered:

4Chan is on the case as well, the comments section of one website claims to have identified her, and a Facebook page calling her a racist has sprung up.
Pour thee a single malt and watch the (VERY NSFW) video below:
[Image via screengrab]
——
>> Follow Evan McMurry (@evanmcmurry) on Twitter
Have a tip we should know? [email protected]