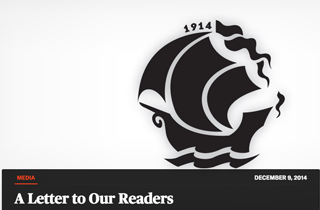 The world is full of awful things — rape, torture, illness, death. So let's pick on Guy Vidra for attempting to save The New Republic with this letter to the magazine's dwindling subscribers.
Vidra begins by reassuring readers that he, too, started his career by working for a failed publication that was eaten alive by the news cycle — in fact, as a copy editor. "When I moved back to the United States, I worked as a copy editor for a company many do not remember today called Bridge News," he recalled. "At the time, Bridge was one of the largest financial news providers in the world but was quickly displaced by a faster moving competitor, Bloomberg."
Vidra, the former head of Yahoo! News, and one-half of the duo that managed to crash the 100-year-old magazine, Hindenburg-style, remained committed to his vision of data-fying the content of the medium in a vertically vertical manner:
We will provide that depth but we will begin to tell our stories more effectively in other ways. When we spend the time and energy to do a longform piece, we will create formats for our readers to engage with that information outside of print. We will use data to let readers immerse themselves in that story. We will use imagery and video to evoke a reaction as visceral as only those mediums can bring. We will develop tools to let you tailor the types of stories you read depending on the time of day or where you may be.

Over the coming months we will add to our masthead and bring on a great and diverse set of writers and editors. We will also invest in product managers, engineers, designers, data visualization and multimedia editors. We will build a platform that lets us create unique and compelling experiences on our web site and on mobile platforms, as well as the means to reach audiences outside our walls.
And of course, the internet quickly noticed that, perhaps, even more people quit The New Republic than they thought:
The copy editors have definitely left the building: http://t.co/JHYUd214d3 pic.twitter.com/b31jlLzChV via @lehmannchris

— Michael Moyer (@mmoyr) December 9, 2014
Guy Vidra writes. It does seem like they are short on editors over at TNR now http://t.co/BE08BB0Dzs pic.twitter.com/wSDe2jnIcY

— Jody Avirgan (@jodyavirgan) December 9, 2014
From Vidra's @TNR subscriber letter. Lo, how the numbers disagree, and hark– how the parallelism does come undone! pic.twitter.com/yuNmCbLjvJ

— Kyle Paoletta (@KPaoletta) December 9, 2014
Vidra dropped "very unique" and "critically important" in the same piece. That got past a team of editors?

— Joshua B. Priemski (@HoopPlusTheHarm) December 9, 2014
This letter is a train wreck. Danglers, tense shifts. If no one in house is willing to copyedit Vidra he should hire a freelancer.

— Christopher Beha (@chrisbeha) December 9, 2014
[Insert joke about how Vidra started his career as a copyeditor][or maybe about how the staff copy people walked out too][that mag is FUBAR]

— Kyle Paoletta (@KPaoletta) December 9, 2014
[The New Republic]
[Image via The New Republic/screenshot]
— —
>> Follow Tina Nguyen (@Tina_Nguyen) on Twitter
Have a tip we should know? tips@mediaite.com