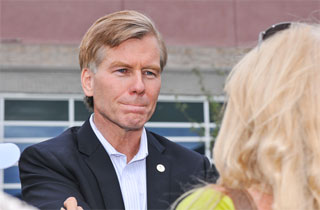 After a lurid trial and a bitter fight between former spouses, former Virginia governor Bob McDonnell was today sentenced to two years in prison for multiple counts of public corruption charges.
McDonnell, a former rising star in the GOP who delivered the party's rebuttal to Barack Obama's State of the Union speech in 2010, was convicted on eleven felony charges of abusing his office for personal gain, becoming the first governor of Virginia to be convicted of corruption.
Though the prosecution asked for him to be sentenced to up to 12 years in prison in accordance with federal guidelines, U.S. District Court Judge James Spencer only sentenced him to two years in prison, as well as two years of supervised release. CNN reports that Spencer thought that the sentencing guidelines were too harsh, but that McDonnell's crimes could not be ignored. "This entire case has been tragic from beginning to end," he said.
And tragic it was: McDonnell was charged with accepting more than $165,000 in gifts, loans, and fancy shopping trips from Jonnie Williams, the CEO of Star Scientific and a close friend of McDonnell looking to use his connections to promote his business. The trial, however, somehow devolved into a husband-vs-wife battle, in which Gov. McDonnell accused his wife, Maureen McDonnell, of having a "crush" on Williams and wheedling money from his deep pockets for her own personal reasons. Among other things, McDonnell accused Maureen of taking thousands of dollars from Williams to pay for their daughter's wedding, Oscar De La Renta dresses, and gold Rolexes. (Maureen herself was convicted on eight charges of corruption.)
During the sentencing hearing, McDonnell appeared contrite. "I stand before you as a heartbroken and humbled man," he said.
[CNN]
[Image via Mavrick / Shutterstock.com]
—
>> Follow Tina Nguyen (@Tina_Nguyen) on Twitter
Have a tip we should know? tips@mediaite.com