Vladimir Putin Sends 8,000-Word Philosophical Response To Outdoor Life Letter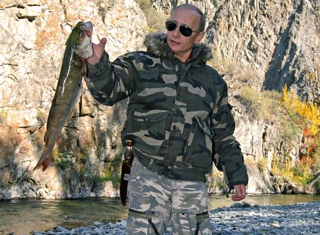 Russian prime minister and current presidential candidate (again) Vladimir Putin hasn't exactly made a name for himself as a friend to the press, but last week he took the time to prove he appreciates fan mail. Texan Outdoor Life columnist Gayne Young, who devoted much of his editorial space to the wonders of Putin's manly escapades in Siberia, sent a humble interview request to the Russian premier, hoping for nothing. He got an appreciative 8,000 word rumination on nature and the meaning of life.
It's unclear exactly when Putin got the time to respond to all these questions, though if it really was him, he seemed to get plenty of enjoyment out of it. Asked about why he loved nature so much and how he learned to appreciate it, he gushed about authors Jules Verne and Ernest Hemingway— "the characters depicted in their books… definitely shaped my inner self," he confessed. Much of the interview describes in detail Russian attempts to conserve endangered animals, particularly tigers, though its most interesting bits are when Putin decides to stray into metaphysical territories. He laments what he considers a "shy, resentful" attitude towards Christianity in America, argues that the human being "is one of the most vulnerable creatures on earth" by design, and, asked about the Cold War, observes: "the vast majority of barriers between our peoples were unnatural and artificially forced upon them."
Putin also saves some praise for President Obama, particularly shirtless President Obama:
In general, we have a rather similar mentality. In any case, we are not snobs. My "popularity," as you call it, with American outdoors enthusiasts is just another proof of that similarity of our views and perceptions.But I can because I remember pictures of Theodore Roosevelt taken not just with a hunting rifle or a fishing rod in his hands, but with a lion he killed. And indeed, as recently as last summer, President Barack Obama was bathing in the Pacific Ocean in front of TV and photo cameras, and he was not wearing a tie, to put it mildly. Does this look like politically incorrect behavior? Not to me, and my ethnic origin has nothing to do with that.
Overall, Putin comes off as someone very happy to talk about something that isn't politics with someone who obviously likes him. It isn't the first time Putin is the object of a fawning "press"– take, for example, this sexy Moscow University calendar, or the hit techno single "A Man Like Putin" ("I want a man like Putin/who isn't a drunk")– but it certainly has to rank high among American interview requests in its level of candor, and in its apolitical nature.
The UK Telegraph caught up with Young— an English teacher when he isn't interviewing heads of state– and got his reaction to the interview which, for the most part, was beaming. "I found a man that was more captivating than I expected," he noted. "He had a self-deprecating humour and he was real and honest." He was also asked whether he felt queasy about the oppressive nature of Putin's government, Young refused to mix business with pleasure. "I'm aware of it," he said of Putin's reputation, "but I am interested in his views on preservation. I have separated the two."
Have a tip we should know? tips@mediaite.com