Wait, What? Actor Hugh Grant Wore A Wire To Secretly Record Tabloid Phone-Hackers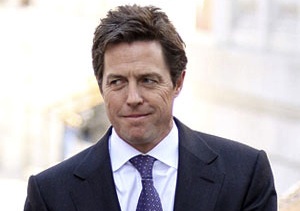 This potential segment would theoretically be titled "When Celebrities Fight Back!" The New Statesman is reporting an interesting new twist to the News of the World phone hacking scandal: it appears that actor Hugh Grant secretly recorded the former News of the World journalists who were involved in phone-hacking scandal. Wearing a concealed microphone, Grant reportedly recorded conversations with a reporter that alleged that the editors of the Rupert Murdoch owned tabloid "absolutely" knew about illegal phone-hacking.
For the uninitiated, the News of the World phone hacking scandal centers on a series of events relating to the News of the World's illegal access to the mobile phone messages of a variety of people of interest to the newspaper. Or as Wikipedia sums up: "They claimed it was in the public interest for people to know the supposed 'truth' about various celebrities, politicians and royalty. Whilst some accusations were at least partly true, many of the calms were of dubious credibility and based on hacked voice mail and text messages."
Charges led to two arrests earlier this week, and now the story takes another, bizarre turn. New Statesman reports:
More than that, he was Paul McMullan, one of two ex-NoW hacks who had blown the whistle (in the Guardian and on Channel 4's Dispatches) on the full extent of phone-hacking at the paper, particularly under its former editor Andy Coulson. This was interesting, as I had been a victim – a fact he confirmed as we drove along. He also had an unusual defence of the practice: that phone-hacking was a price you had to pay for living in a free society. I asked how that worked exactly, but we ran out of time, and next thing we had arrived and he was asking me if I would pose for a photo with him, "not for publication, just for the wall of the pub".

I agreed and the picture duly appeared in the Mail on Sunday that weekend with his creative version of the encounter.He had asked me to drop into his pub some time. So when, some months later, Jemima asked me to write a piece for this paper, it occurred to me it might be interesting to take him up on his invitation.

I wanted to hear more about phone-hacking and the whole business of tabloid journalism. It occurred to me just to interview him straight, as he has, after all, been a whistleblower. But then I thought I might possibly get more, and it might be more fun, if I secretly taped him, The bugger bugged, as it were.
The full article is only available in print, but you can a fuller excerpt at the New Statesman website. Cheerio!
(H/T Micki Maynard)
Have a tip we should know? tips@mediaite.com
Colby Hall - Founding Editor