Wake Forest Says Football Announcer Has Been Leaking Confidential Info to Opponents For Two Years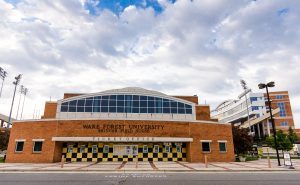 In a wild allegation sure to make coaches all across college football even more secretive about the information they share with broadcasters (even, and perhaps especially, those employed by their team), Wake Forest claims that its football announcer has been funneling confidential preparation materials to opposing teams for the past two years.
Through a press release, the University fingered Tommy Elrod — the team's radio broadcaster — as the sole perpetrator of the leaks.
#BREAKING #WakeForestFB fires radio announce Tommy Elrod. pic.twitter.com/kH6RBqPqJr

— Mike Solarte (@MikeSolarte) December 13, 2016
NBC Sports reports that Wake Forest began the investigation after it became suspicious that Louisville, who they played on Nov. 12, had gained an advantage at halftime. Per the report, Wake found some of their game prep materials in Louisville's stadium after the game. Wake Forest was leading the game 12-3 at the half, and eventually lost 44-12.
The investigation quickly pointed to Elrod, who "based on emails, text messages, and phone records," was the man behind the leaks, according to the university.
Prior to announcing Wake Forest games, he'd spent 11 seasons as an assistant coach with the team.
"It's incomprehensible that a former Wake Forest student-athlete, graduate-assistant, full-time football coach, and current radio analyst for the school, would betray his alma mater," said Wake Forest coach Dave Clawson. "We allowed him to have full access to our players, team functions, film room, and practices. He violated our trust which negatively impacted our entire program."
"I have known Tommy Elrod since his days as a player on our football team," added Ron Wellman, the atheltic director for Wake Forest. "I'm deeply disappointed that he would act against Wake Forest, our football team and our fans in such a harmful manner by compromising confidential game preparation information."
[image via Shutterstock.com]
–
Follow Joe DePaolo (@joe_depaolo) on Twitter
Have a tip we should know? tips@mediaite.com
Joe DePaolo - Senior Editor