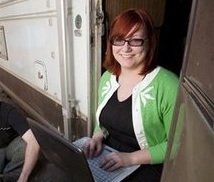 On September 3, I filed a story about Brianna Karp, the homeless blogger who was thrust into the national spotlight when Elle's E. Jean Carroll offered her a prestigious internship. I spent a good part of the rest of that day reading every word of Bri's gripping, thoroughly entertaining blog. That's how I learned that, on August 23, her truck and trailer had been impounded from a Wal-Mart that had given her permission to park there, and that she was accruing impound fees that included an $80 a day storage fee.
I called Wal-Mart's media relations department that day to see what they had to say about it. They said they would get in touch with Brianna to find out more, and to work on a resolution.
I'm happy to report that Brianna emailed me last night to tell me that Wal-Mart officials will be meeting her at the impound lot, at 8am PDT, to get her trailer and belongings out of impound. This is very good news, as the now nearly $3500.00 pricetag for the impound would be insurmountable for Brianna. It may as well have been $3.5 million.
Things are definitely looking up for Bri, who appeared on CNN and the Today Show last week. Every step of the way, however, she reminds me that she wants to continue to focus on, and advocate for, the homeless.
One of the reasons this story jumped out at me was an experience I had while covering the Inauguration in January. I did a series of articles based on time that I spent with homeless people the night I arrived in Washington, DC. I spoke to one of them, Paula Grove, for hours, and one of the things she told me was that her descent into homelessness was spurred by the loss of her car. She was on her way to Florida to stay with family, when her car broke down in Virginia. The only place she could get a ride to was DC, and that's where I found her.
These are tough times, and these stories underscore exactly how thin the threads of housing stability can be.
Update: Of course, nothing is ever simple for Brianna. Here's some good news/bad news/awesome news from her Twitter feed last night:
Someone's at the tow yard, getting her truck 'n trailer back!!! (Thank you so, so much, @vickiaday and @TommyXtopher!!!)about 7 hours ago from mobile web

Agh, complication starting truck so tow yard having mechanic fix tomorrow free of charge… have to wait 'til then to get stuffabout 6 hours ago from mobile web

BUT… just got a call from West Coast Choppers and guess who's their new Executive Assistant?!?! (!!!!!)about 6 hours ago from mobile web
Just think, we knew her when…
Have a tip we should know? tips@mediaite.com