WaPo Corrects the Record: Sean Spicer Wasn't 'In the Bushes', He Was 'Next To' The Bushes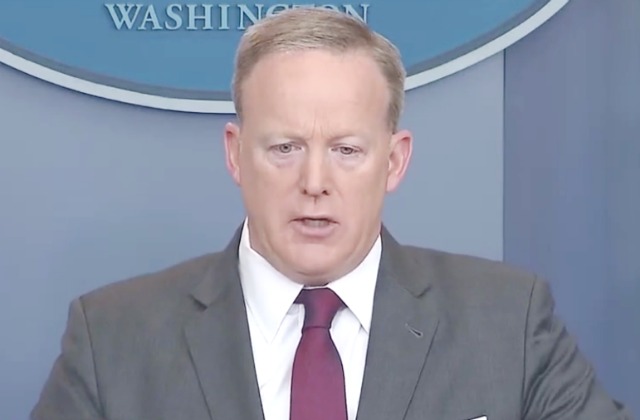 One can only imagine the conversation between the White House press department and the Washington Post editors that led to this correction.
The Washington Post offered a correction to their readers on Wednesday, in order to clarify a really strange account about how Sean Spicer tried to avoid talking to reporters after President Trump fired FBI Director James Comey.
Shortly after Comey's firing set of a political firestorm this week, the White House had to scramble in order to control the impact and respond to overwhelming media intrigue. During this time, WaPo released a report stating that Spicer was hiding in the White House's bushes on Tuesday night, and that he only emerged from the shrubbery once reporters promised not to film him while he took some of their questions.
The story's comical implications quickly became the subject of curiosity and political mockery across the media spectrum. WaPo has since amended the original article with an editor's note saying Spicer was among the bushes instead of inside them:
EDITOR'S NOTE: This story has been updated to more precisely describe White House press secretary Sean Spicer's location late Tuesday night in the minutes before he briefed reporters. Spicer huddled with his staff among bushes near television sets on the White House grounds, not "in the bushes," as the story originally stated.
Politico had their own report about Spicer's activities that night, and they noted that he and his colleagues faced a deluge of questions about Comey within an hour after the story broke. The article notes that Spicer seemed particularly upset by WaPo's Tuesday night account, and that he recently had an angry confrontation with one of their editors about it.
From Politico:
One White House official said Spicer, who is set to return to the podium Friday, seemed more upset about that story than much of the terrible coverage Trump received.

Spicer said late Thursday that The Washington Post "falsely described the situation" and "grossly misstated the situation around our attempt to brief the press."
[Image via screengrab]
— —
>> Follow Ken Meyer (@KenMeyer91) on Twitter
Have a tip we should know? tips@mediaite.com