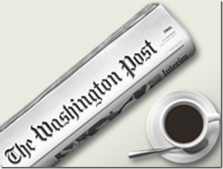 Wow. This is what budget cuts look like in the extreme. The Washington Post has just announced that it will be closing its news bureaus in New York, Chicago, and Los Angeles, to save costs. Yes, you read that right. Here is the memo sent out to staff (via the Washington City Paper):
To the Staff:

Today we have informed our news colleagues in New York, Chicago and Los Angeles that we are closing the offices in those cities, effective Dec. 31. The reporters in those bureaus are being offered new roles here in Washington. Regretfully, the three news aides, who have been dedicated colleagues and are friends of many here, will be let go.

At a time of limited resources and increased competitive pressure, it's necessary to concentrate our journalistic firepower on our central mission of covering Washington and the news, trends and ideas that shape both the region and the country's politics, policies and government.

We will continue to cover events around the country as we have for decades, by sending reporters into the field. We have a strong tradition of bringing understanding and authority to our coverage of politics and issues that matter, wherever the stories take us. The evidence is visible daily in The Post: our deeply reported narrative series on the human consequences of the economic downturn; our insightful coverage of the healthcare debate, from the efficient hallways of the Mayo Clinic to the raucous townhalls of last August; even the ongoing coverage of the Ft. Hood shootings or the impending 2010 midterm campaigns.

Our commitment to national news of interest to our readers is undiminished, and we will maintain the level and caliber of coverage our readers expect.

Marcus
Liz
Raju
We've been talking and reading about budget cuts and the resulting layoffs for so long now, and yet this news still comes as a shock. As noted in the memo the paper says it will maintain its commitment to national news but it's hard to see how with three major bureaus closing. It's hard not to wonder if at some point the New York Times will be all the news that's fit to print because it is the only news.
Have a tip we should know? tips@mediaite.com