WaPo's Eugene Robinson Changes Mind, No Longer Thinks Obama's Airstrikes Are Working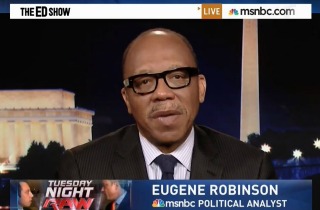 Liberal columnist Eugene Robinson writes in Tuesday's Washington Post that President Barack Obama's war strategy against ISIS, which is entirely based on airstrikes and no ground troops, is "failing."
Readers might never know that just a few weeks ago, Robinson was convinced that the reason an American journalist was beheaded overseas was precisely because the airstrikes were "having a real impact" on the Islamic terrorist network.
Robinson, who has a very distinguished voice but not in the Morgan Freeman way, writes in his latest column:
Intervention by the world's mightiest military force has produced no shock and no awe. To be sure, U.S. and coalition airstrikes are inflicting some damage on Islamic State troops and equipment. But the bombing has done virtually nothing to alter the strategic balance of power — or to boost the fortunes of our ostensible allies on the ground, the "moderate" Syrian rebels and the hapless Iraqi military. …

President Obama was reluctant — for good reason — to get involved in the Syrian civil war or renew U.S. military involvement in Iraq. His airstrikes-only strategy reflects that caution. But results so far suggest the president might as well have followed his original instincts and stayed out.
Compare that to Robinson in late August on MSNBC. "It's also clear that the airstrikes are having an impact on ISIS or they wouldn't be doing this," he said at the time in light of the heading of American journalist James Foley. "They wouldn't be doing these dramatic and terroristic acts if they weren't hurting. I think it's had a real impact on them."
Back to present day, Robinson wraps up his column: "What, exactly, do we think our bombs are accomplishing?"
The column does not acknowledge that at one time, Robinson thought he knew the answer.
[Photo via MSNBC/screen grab]
— —
>> Follow Eddie Scarry (@eScarry) on Twitter
Have a tip we should know? [email protected]