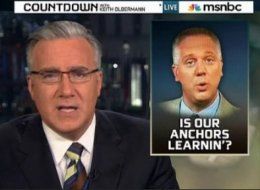 Twitter is now steering the media conversation in an unimaginable way, with insider gossip and PR lines dictating the direction of the ongoing attacks from Keith Olbermann. Two of the current stars of their respective networks, Olbermann and Glenn Beck were bound to clash, and it took a tweet from the Kansas City Star's Aaron Barnhart to get the controversy started. It started last week – and is still going on.
Last week, Barnhart took to Twitter with the tip, "Fox News PR just emailed to let me know Glenn Beck will be raising fears tonight on his TV show," as reported by the Huffington Post.
That night, Olbermann cited the 140-character claim and used reports of Beck's fear mongering as a launching pad to assails the Fox host's recommendation to buy gold. "He's not selling fear, he's selling merchandise," Olbermann exclaimed in the clip, embedded below.
But Fox News PR says no such info was passed on to Barnhart, and last night, Barnhart addressed the blow-up again on his blog. "If a department inside Fox News is disclaiming an email saying that Glenn Beck would be raising fears about the H1N1 vaccine on Thursday's program, I can understand why," writes Barnhart. "I like Fox News, but something about Keith Olbermann makes lasers shoot out of their eyes."
Now Fox News is responding, telling Mediaite today: "We like Aaron too. But unless he produces the alleged email from the Fox News PR department, it is safe to assume he was caught making things up."
Barnhart says he was never contacted by Huffington Post, but he was contacted by us for further explanation yesterday. He has not responded to email/phone calls. So we don't know the truth here, only that he hasn't fully explained why he'd tweet something that he claims came from the PR department at Fox but refuses to back that claim up with proof, now that Fox is denying it.
Barnhart, who is, ironically, on the board of the Television Critics Association, has since called his tweet a "smartass comment," implying that he may have exaggerated or sensationalized the words of his Fox News contact, fooling Olbermann in the process. Now will Olbermann be forced to issue a mea culpa to his rivals? It seems unlikely, though he and other cable newsers may think twice before sourcing Twitter again.
We'll keep you updated on the situation from all sides, but in the meantime check the Countdown clip below:
Have a tip we should know? tips@mediaite.com