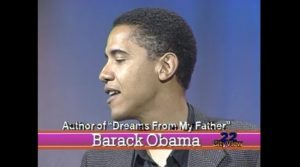 Amid the revelation that Republican party nominee Donald Trump was caught on leaked audio discussing grabbing packs of Tic Tacs and some other unmentionables that certainly don't belong to him, many of his supporters in the Twitterverse and elsewhere have been quick to try to deflect attention elsewhere.
The 2005 leaked tape shows Trump bragging about imposing himself on beautiful women with strong, and potentially criminal, sexual advances.
But now, in response, a video has reemerged from 1995 of a then-young Barack Obama on tape saying the sentence, "Gotta have them ribs. And pussy too."
It's not edited for distortion, nor is it some camera trick.
It is however, from a book that Obama is reading, and certainly not a wild claim by the man that he enjoys BBQ and felines in his spare time. The text he is reading is from his own popular Dreams from My Father: A Story of Race and Inheritance, and the clip in question comes from a scene where he is discussing the belief structure of Malcolm X with someone.
One of the guys sitting nearby must have overheard us because he leaned over with a sagacious expression on his face.

"You guys talking about Malcolm? Malcolm tells it like it is. No doubt about it."

"Yeah," another guy said. "But I'll tell you what. You won't moving to no African jungle anytime soon. Or some goddamn desert somewhere sitting on a carpet. With a bunch of Arabs. No sir. You won't stop me eating no ribs, either. Gotta have them ribs. And pussy too. Don't Malcolm talk about no pussy. Now you know that ain't gonna work."

I noticed Ray laughing and looked at him sternly.

"What are you laughing at?" I said to him. "You never even read Malcolm. You don't even know what he says."
At the time, Obama was a Harvard law school student, and the full version of the video has earned well over 3 million view on Youtube. The moment in question comes in around the 15:00 mark.
It shows Obama speaking at the Cambridge Public Library, which he says at the beginning of the video marks his first appearance there. He even jokes that at the same venue that day was Colin Powell, but he wouldn't have to worry about the young law student and author "siphoning off" his crowd.
A Twitter search for "ribs and pussy" right now reveals a stunning number of results linking to the out-of-context clip, but the Mediaite Mythbusters give the claim that Obama was somehow caught demanding "pussy," you know. . . just like Trump did, a veracity score of 1 Dr. Harold Bornstein out of a possible 5:

—
J.D. Durkin (@jiveDurkey) is an editorial producer and columnist at Mediaite.
[image via screengrab]
Have a tip we should know? tips@mediaite.com