Washington Times Pulls, Then Un-Pulls and Disclaims, Dale 'N-Word Sign' Robertson's Column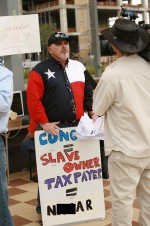 Earlier today, we reported that Dale Robertson, the self-styled "Tea Party Founder" who's infamous for being photographed holding a sign featuring the n-word, is touting himself as a columnist for The Washington Times' Tea Party Report blog. Now, following publicity from this blog and several others, it appears the Times has pulled Robertson's column. In another strange twist, The Hill has published a Kum Ba Yah op-ed penned by Robertson and Paul Silver, leader of the Coffee Party movement.
Word of Robertson's involvement with the Washington Times spread quickly today, as WaPo's Dave Weigel, Alan Colmes, and conservative blogs like Minority Report, Stixblog, and Redstate (by Freedomworks' Tabitha Hale) all did stories on it. While the Times has yet to respond to requests for comment, it seems the magnified sunlight has disinfected this particular bug. Caleb Howe has , however, preserved the text for posterity at Redstate.
At least equally bizarre is the fact that The Hill has published an op-ed piece co-written by Dale Robertson and Paul Silver, a leader of Tea Party rival Coffee Party USA. As many conservative blogs have pointed out, Robertson's claim to Tea Party leadership is less than tenuous, and yet he's making peace on their behalf with what is essentially their center-left doppelganger. Maybe next, he'll team up with Richard Blumenthal to sort out that whole Vietnam mess.
It's really kind of a shame that Silver chose such a discredited, radioactive member of the Tea Party with which to join hands, because a lot of what he says makes sense:
Two of us, from seemingly different sides of the track, sat down to discover that what brings us together far exceeded what divides us: Dale Robertson, the Founder of the Modern Day Tea Party.

And Paul Silver, a member of the Coffee Party Movement and other campaign reform groups. The core beliefs of the Tea Party are fiscal responsibility, limited government, and free markets. The Coffee Party wants to promote cooperation in government, recognizing that the federal government is not the enemy of the people, but the expression of our collective will. The principles are quite general.
This is true. When you step back and don't get hung up on the details, there's probably a lot of common ground. If you step back far enough, that n-word sign just becomes a blur in front of a walking Texas flag.
On a personal note, to the extent I may have had anything to do with this, I hope this turns out better than the last time I got a column pulled.
Update: The column is back, with a disclaimer:
DISCLAIMER: The Tea Party Reports is edited by Bill Kelly and Laura Grock and features numerous independent voices in today's Tea Party movement. Tea Party guest submitters are in no way affiliated with The Washington Times and do not necessarily reflect the views of any other person other than the contributor (- 5/21/2010).
Update 2: A spokesperson for the Tea Party Report tells me that they have no official relationship with Dale Robertson, and have asked his PR flack to stop "misrepresenting" this. The Tea Party Report staff, she informs me, are also not employees of the Washington Times. The paper simply provides them space to publish their blog.
While Tea Party Report is a community blog, it's not like Daily Kos, where pretty much anyone can post. All submissions are reviewed by TPR's editors prior to publication. There are no plans to remove Robertson's post at this time, but Tea Party Report welcomes submissions from anyone, even those who differ with Dale Robertson.
Have a tip we should know? tips@mediaite.com