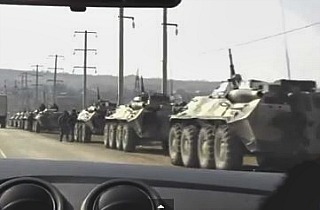 In spite of the worsening situation in Southern Ukraine following a Russian military invasion of the Crimean Peninsula, American cable news networks have largely moved on to cover other events. But while Western news networks are focused on the implementation of the Affordable Care Act, a missing Malaysian passenger jet, or a the special election results in Florida, Russia has taken advantage of Western disinterest in the worsening crisis in Eastern Europe.
Ahead of this weekend's snap referendum in Crimea in which the residents of that peninsula will determine whether to ratify the occupied parliament's vote join the Russian Federation – a move Kiev regards as illegal – Russia has quietly moved a significant amount of military hardware and personnel to the Ukrainian border.
Interpreter Mag, which has done stellar work over the course of the Ukrainian crisis, has been reporting for days on the rapid buildup of forces near the Ukrainian border and the hardening of Russian positions in occupied Crimea. On Wednesday, a series of user-submitted videos began to appear on intelligence blogs showing signs of massive Russian troop movement.
An amateur video taken in the Russian city of Rostov, via Censor.net, shows a column of self-propelled artillery moving toward the border with Ukraine.
Another video uploaded by a Russian journalist, via Interpreter Mag, features a column of Russian armor near the Eastern Ukrainian city of Kharkiv.
A Ukrainian newscast, also via Censor.net, shows miles-long columns of Russian hardware moving by road and rail toward the border.
Finally, a dashboard-based camera captured columns of Russian armored personnel vehicles, via Al Aan TV, which is reportedly "staging" in Crimea.
Russia has explained that these movements are part of a four-day military exercise, but Moscow also used a military exercise as cover for Russian movements near Crimea in late February which culminated in the invasion of the peninsula.
Russia reportedly has upwards of 220,000 troops and over 1,800 tanks and 400 helicopters near the Ukrainian border. It's difficult to imagine this is a mere contingency when the political groundwork will be laid this weekend for a broader incursion into East and South Ukraine when the referendum on Crimean "independence" from Ukraine is expected to pass.
On Wednesday, speaking outside the White House after meeting with President Barack Obama, Ukraine's interim Prime Minister Arseniy Yatsenyuk warned that the annexation of Crimea will be a prelude to an invasion of Ukraine's South and East. Russia's military movements suggest that he could be correct.
[Photo via screen grab]
— —
> >Follow Noah Rothman (@NoahCRothman) on Twitter
Have a tip we should know? tips@mediaite.com